Oahu traffic deaths rising
The total of 75 so far this year tops the '04 tally and includes 34 pedestrians
This year, Christmas at the Kobashigawas' was missing much of the merriment of past holidays.
In a solemn gathering yesterday, family members remembered 89-year-old patriarch William Kobashigawa, who was killed Thursday while trying to cross a marked crosswalk near Windward Mall, just minutes from his Kaneohe home.
"It's just empty," said daughter Lisa. "We're just trying to remember all the good times that we've had, trying to make the best of it. But it's not quite the same. It's never going to be the same."
Kobashigawa was the 136th person to be killed on Hawaii's roadways this year, just six shy of last year's total, state Department of Transportation statistics show. With 75 traffic deaths this year, Oahu has already surpassed 2004's total of 71, according to Honolulu police.
Only Maui County has seen a drop in traffic fatalities this year.
The statistics are raising concern among lawmakers and police. Just last week, traffic accidents killed three people.
Last Monday, a Big Island man died from injuries sustained in a one-car crash on Dec. 16.
The next day, a 51-year-old Honolulu man died when the motorcycle he was riding slammed into a guardrail on the H-3 freeway.
And on Thursday, police said, a white Ford pickup truck was speeding on Kamehameha Highway when it slammed into Kobashigawa, who was crossing in the marked crosswalk fronting the Safeway store at 46-065 Kamehameha Highway at about 5:45 a.m.
In a recent news release, Gov. Linda Lingle called Kobashigawa's death "a senseless, tragic and avoidable accident." It was the 34th pedestrian fatality this year, the 12th in a crosswalk.
"Like so many of us, Mr. Kobashigawa thought he was safe using the crosswalk," she said in the release. "He did the right thing, but unfortunately, careless disregard of our laws has resulted in the loss of life, and pain and sorrow for the family."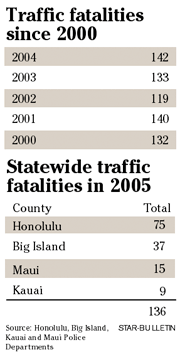 The state's new pedestrian law went into effect in May. Under the law, drivers must yield to pedestrians on the same half of the roadway or who are approaching and in danger of being hit.
"We want to send a message to all drivers that if they put pedestrians at risk or, worse, injure or kill someone who is just trying to cross the street, there will be a heavy price to pay," she said, adding that she will introduce new legislation to increase pedestrian safety.
Lisa Kobashigawa said lawmakers, police and residents need to "take a little bit of responsibility" to make the roads safer.
"If it isn't safe to go walking in your own hometown, we need to take a look at it," she said. "We have these laws in place, and it just doesn't seem to be getting any better. I think anybody who drives or anybody who gets behind the wheel should take responsibility and just pay attention to what they're doing. You need to be aware of what's around you."
Acting Maj. Jose Gaytan of the Honolulu Police Department said despite police efforts to curb pedestrian deaths, the statistics are "going the wrong way."
Meanwhile, he credited Hawaii's high seat belt usage in keeping auto deaths on Oahu to 27 this year. There were 25 auto deaths on the Big Island during the same period, according to county statistics, and seven each on Maui and Kauai.
Maui police said a drop in fatalities -- 15 this year, compared with 21 in 2004 -- was likely thanks in part to a new speeding reduction program, which increases patrols on roadways to ticket speeders.