---
[ FAST FACTS HAWAII ]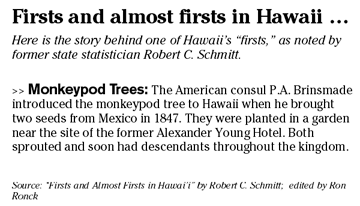 ---
BACK TO TOP


|


NATION
Delta shutting 16 gates at Orlando's airport
ORLANDO, Fla. »
Delta Air Lines Inc.
has told a bankruptcy judge that the airline wants to close two-thirds of its gates at Orlando International Airport, the state's busiest.
Delta made the request to shut down 16 of its 24 gates at the Orlando airport last week in New York bankruptcy court. Such a move would end Delta's title as the region's most powerful and largest carrier as early as next month.
The change "does not signal a reduced commitment by Delta to the Orlando market," Delta spokesman Anthony Black said. The airline will not decrease its average of 115 daily flights, he said, though the number of seats will drop.
For years, Delta has wanted to cut back on its gates but could not because of its 30-year lease, which ends in 2008. The bankruptcy filing relieves Delta of those lease obligations.
Judge approves Amex settlement
MIAMI » A $75 million settlement has been approved between
American Express Co.
and thousands of cardholders who contended in a class-action lawsuit that they paid hidden transaction fees for charges made in foreign currencies.
The settlement, approved last week by U.S. District Judge Cecilia M. Altonaga, affects more than 833,000 cardholders who paid some form of transaction fee from March 28, 1997, through Oct. 15, 2004. Settlement amounts could range from $15 to millions of dollars, lawyers involved in the case said Friday.
The lawsuit, initially filed in state court in August 2003 and then transferred to federal court, claimed that American Express failed to adequately inform cardholders that they would be charged an adjustment of up to 2 percent for the conversion of charges made in foreign currencies to U.S. dollars.
Instead, the fee was embedded in the transaction amount that showed up on cardholders' bills, making it "invisible to consumers," said the lawsuit filed by Edward LiPuma, an anthropology professor at the University of Miami who was represented by attorneys Tucker Ronzetti and Adam Moskowitz.
Although it settled the case, American Express did not admit to any wrongdoing and maintained that its conversion practices were fully disclosed, said spokeswoman Judy Tenzer. American Express did, however, change its notification practices to spell out the conversion fees more clearly, she said.
New year, new job? Prepare first
Many people add career improvement high on their list of new year resolutions, right up there with losing weight, drinking less and exercising. But before making 2006 the year you truly rock in your job or land a new one, consider a few pitfalls that might have bedeviled you this year.
ClearRock, a Boston-based executive coaching and outplacement company, has compiled a workplace review. Are you guilty of any of these?
» Failure to sing your own praises. Most people aren't too comfortable tooting their own horn. "But you need to find even an understated way to inform your boss of your accomplishments," said Annie Stevens, a ClearRock managing partner. "Forward him or her a positive e-mail you received from clients, customers, and others with a simple 'FYI, thought you should know.' Never assume that praise flows upward, but always assume criticism does."
» Not keeping your career network current. Always be prepared for the unexpected, and that means being in touch with your network at industry associations, meetings and professional colleagues.
» Not communicating with your boss how they want. If your boss wants daily e-mail and not weekly calls, or weekly reports and not a daily call, follow that.