Doing Disneyland right
Disneyland is no place for spontaneity.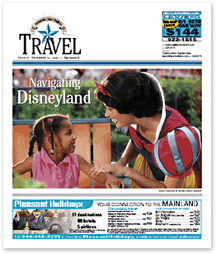 An overstatement, certainly. But the truth is that every aspect of Disneyland -- from its Fastpass ride system, to its months-in-advance reservations for popular "character meals," to its early-entry admission perks -- rewards organization and discourages instant gratification.
Can you have a great time flying seat-of-your-pants at Disneyland? Absolutely. But I guarantee that you'll spend less time waiting in line -- where kids and adults alike are more prone to meltdowns -- if you plan ahead.
Avoiding the worst of the crowds is even more critical as Disneyland and Disney's California Adventure bulge with tourists attracted by the massive marketing for Disneyland's 50th-anniversary celebration, which runs through Nov. 5.
Here are some tips to help you make the most of your visit.
Before you go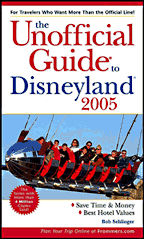 »
Read "The Unofficial Guide to Disneyland" and peruse www.disneyland.com.
You don't have to follow the book's explicit touring directions (we certainly didn't), but even having a general itinerary in mind helps save time once you get there. For example, I already knew which rides my kids were too short to ride on, and already knew the dates and times for the parades, fireworks and "Fantasmic," the special-effects-laden nighttime laser and pyrotechnics show. I already knew which restaurant had the characters my kids most wanted to see, already knew which rides were closed for refurbishment, and on and on. In other words, we spent little time looking at the map, wondering what to do next.
» Buy Disneyland and Disney's "California Adventure" tickets before you go, either as part of a travel package or separately at any Disney Store, or at disneyland.com (which offers deep discounts). Even Costco sells a discounted pass. Wherever you buy it, do it in advance. It's one less line to stand in once you get there.
» Consider more than just price when booking a travel package. For my money the most valuable perk is the "early entry" that gets you into the park an hour before it opens for general admission. We bought our flight, hotel and park tickets separately, when buying a package would have offered more perks. Still, by purchasing our five-day "park hoppers" (good at both parks) online at www.disneyland.com, the price was $40 less per pass than if we'd paid at the gate, and included one early entry to Fantasyland.
Hotel and ticket packages (of three days or more) purchased through the Walt Disney Travel Co. (
www.disneyland.com
; 714-781-4400) include two early entries: one day into Toon Town and one into Fantasyland.
AAA Vacations offers the most perks: early-entry passes to Toon Town and Fantasyland, plus the ability to collect multiple Fastpasses. (Other guests must use their first Fastpass or wait a set amount of time before obtaining a second.) The point is to ask about these benefits, along with considering hotel quality, location and price.
» Reserve "priority seating" -- up to 60 days in advance -- for a meal with the Disney characters. Sure, the food is mediocre and overpriced, but the characters visit every table, chatting and posing for pictures. It's better to sign up in advance (and cancel without penalty if you decide not to go) than to be shut out of a last-minute time slot for a child who develops a sudden longing for the autographs of every Disney princess (as our daughter did). There are numerous options for character meals; check a Disney guide or www.disneyland.com for meals, then call 714-956-6755 for "priority seating."
After you get there
»
Use your Early Entrance admission:
If you have this option, which gets you into the park an hour before the general opening, don't waste it by sleeping in. You can hit the major attractions multiple times before the rest of the huddled masses make it through the main gate. Even if you don't have early-entrance privileges, plan your arrival well in advance of the park opening and check out Main Street, which opens earlier than the rest of the park. You can pose for pictures, shop, get character autographs and quickly run to the rides once the rope is dropped. If you arrive after the park opens, you'll face a mass of people waiting in line just to get through the turnstiles.
»
Use Fastpass:
These line-jumpers are issued for Disney's most popular attractions. A kiosk outside the ride tells you how long the line is and whether Fastpass is available. Swipe your ticket to receive a pass that gives you a time to return without standing in line. The conventional entrance is referred to as the "stand-by" line, and they ain't kidding; Fastpass holders always get priority. Don't be fooled by a queue that looks short from the outside; you'll walk inside to discover a labyrinth that might be the best example of that Disney "imagineering." When I got a Fastpass for the new, improved Space Mountain, the "stand-by" wait was 65 minutes. My Fastpass had me return in two hours, at which point I whisked onto the ride in two minutes.
» Use "Child Swap" passes: They're available on any ride with a height restriction and allows the tall-enough people to ride, disembark and return to claim the child who isn't tall enough to ride, at which point the other adult bypasses the line and gets on the ride.
» To save time (and money) on souvenir shopping, do it only once, either in the early morning on Main Street before the rest of the park opens, or at night, during a parade, the fireworks or Fantasmic, when the stores are less crowded. (Make time for these spectacular sights on other nights.) Stow purchases in a locker; just don't forget to retrieve them as you exit the park.
Special nap spots are useful attractions
One of the challenges of our trip was making sure that our 3-year-old son got his absolutely necessary daily nap, without cutting too much into our always-energetic 8-year-old daughter's Disney time.
While we chose a hotel that was within walking distance for afternoon rests, we ended up staying in the parks. We found hideaways where my husband could relax with our son for an hour or so while our daughter and I went off hunting for Disney characters' autographs. These spots -- where we parked a sleeping child in his stroller -- would be good for anyone, of any age, who simply needs to chill.
» Enchanted Tiki Room, Adventureland: Indoor, air-conditioned (bizarre and culturally way wrong) animatronic musical show, with cushioned seats and dim lighting. The singing birds and flowers put our son right to sleep.
» Redd Rockets Pizza Port, Tomorrowland: The indoor seating area is air-conditioned, with cushioned booths. Nearby water misters provide further heat relief.
» Lobby of the Grand Californian Hotel, Disney's California Adventure. The soaring four-story lobby, with a roaring fire, pianist playing a grand piano and deep, comfortable armchairs made me happy to slow down. We extended our time by having a relaxing lunch at the adjacent Storyteller's Cafe.
» Golden Horseshoe Cafe, Frontierland. While this venue is indoors and air-conditioned, we did not come to take a nap. Instead the whole family saw a top-notch show by Billy Hill and the Hillbillies, four multitalented fiddlers led by a natural comedian in a show that is full of great music and side-splitting laughs. This group is a must-see, and the comfortable sit-down venue makes the show an especially fun, relaxing experience.
Internet and travel groups help find quality accommodations
Although "The Unofficial Guide to Disneyland" is a good resource for almost everything else Disneyland-related, it's not great for sorting out accommodations.
It ranks area hotels and motels strictly according to room quality, with no regard to location -- which for me was the second-most important factor (after price).
However, many other resources can help you decide where to stay.
If you can afford it, the Grand Californian Hotel is easily the best choice. It's situated within Disney's California Adventure -- with a private entrance to that park -- and is just across the ticket plaza to Disneyland's entrance. In between is the Downtown Disney district, with shops, restaurants and movie theaters.
But this luxurious property is also the most expensive in the area. More affordable options abound, many within easy walking distance of the park.
To get the lay of the land, pick up a copy of the Walt Disney Travel Co.'s "Southern California Vacations" guide, which includes an easy-to-read lodging map. The free guides are available at most travel agencies.
Besides the three Disney properties (Grand California, Disneyland Hotel and Paradise Pier Hotel), motels in the 1400 and 1500 block of Harbor Boulevard boast the quickest walk to the parks.
Once you decide the general area you prefer, check out www.TripAdvisor.com, which posts reviews from recent guests, including specific complaints and kudos.
Be advised, though, that some of the posters seem picky, and might dissuade you from a perfectly acceptable motel. Rather than sifting through hundreds of comments, give more weight to the hotel's overall ranking on the site's "popularity index," which ranks hotels based on customer feedback and guidebook ratings.
We ended up choosing the Howard Johnson Plaza Hotel based on TripAdvisor. It was high on the popularity index (No. 3 out of 97 hotels), was a 10-minute walk away from Disneyland and Disney's California Adventure, and it fit my family's tight budget.
Plus, I was impressed that whenever TripAdvisor posted a complaint from a guest, general manager Bill Cleaver responded with his own posting, telling what the hotel had done to resolve the beef.
He was the only hotelier I noticed doing that, and it got my attention, indicating a level of service beyond the average budget hotel.
Although I used the Internet to research and book our trip, don't overlook good ol' bricks-and-mortar travel agencies. With AAA members eligible for so many Disneyland perks and discounts, the smartest move might be to use the Internet as a research tool but to book your package through the auto club, which offers more exclusive benefits to Disneyland travelers than even the Walt Disney Travel Co.