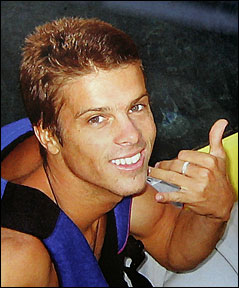 Malik Joyeaux: 1980-2005
Ceremony honors Joyeux
Hundreds gather at Ehukai for the fallen Tahitian pro
HUNDREDS of surfers paid their last respects to Tahitian surfer Malik Joyeux yesterday, in the same stretch of North Shore ocean where he drowned Friday in a surfing accident.
"I've never seen a circle that big," Oahu surfer Joey Cones said of the huge ring of surfers in the water.
Hundreds of surfers -- some estimates put the number as high as 1,000 -- held hands and prayed for about 15 minutes starting at 3 p.m. to pay tribute to Joyeux.
Many brought flowers or ti leaves into the ocean. Others punctuated the memorial for the well-liked 25-year-old professional surfer with howls, whoops and splashing water.
"I think we were expressing our emotions, with no words," Cones said.
A helicopter dropped flowers from above the floating ring of mourners, while on the beach a group of Joyeux's friends from Tahiti beat a lively rhythm on pahu and haakete drums.
"It's a tradition of respect for the ocean and for the person that was lost," West Oahu lifeguard Mel Puu said of the surfers' circle.
Puu called Joyeux "very quiet, very humble, very friendly and open-hearted."
"He's like my little brother," said drummer Pat Laux, 33, from Tahiti. "He's stayed at my house. We've traveled together, in Europe, all around the world."
"All the surfers in the world know him, so I think the world is sad," Laux said as he took a break from drumming and gazed out at 1- to 2-foot waves and clear blue skies.
When lifeguards and surfers pulled Joyeux from the same stretch of Ehukai Beach on Friday, he had been underwater 10 minutes after wiping out on a wave with a 15-foot face that broke his board.
He was never revived, and the Honolulu Medical Examiner ruled his death an accidental drowning, caused by a head injury.
The loss of a top surfer in a seemingly ordinary wave emphasizes "that the ocean needs to be respected," Puu said.
"We need to watch out for each other as best as we can," he said, "but when it's time, it's time."
Laux said, "I came here to say 'nana' (goodbye) for all the people in Tahiti who couldn't come." There already has been one memorial in Tahiti for Joyeux, and Laux said he believes there will be at least two more when the Joyeux family returns there Saturday.
"Tahiti is small," he said. "Everybody knows Malik," who was famous for his ride of a 40-foot wave at Teahupoo two years ago.
It seemed like everyone on the North Shore knew him yesterday, as hundreds pressed near a tent set up in Ehukai Beach Park for a land-side memorial before the surfers took to the water.
"He's not here anymore physically but he's around everyone," Joyeux's brother, Teiva, 29, told hundreds, speaking into a lifeguard's bullhorn.
"Look at everyone here," Teiva Joyeux told the crowd that ranged from babies in diapers to gray-haired senior surfers. "It's too bad something like this had to happen to bring everyone together."
Nina Heiberg, Teiva Joyeux's girlfriend, urged the North Shore crowd on behalf of the Joyeux family to have a good time and celebrate Joyeux's life.
"I know he'd want us to laugh more than anything," she said.
Heiberg said she called Malik "geek" and he called her "nerd," but their mutual teasing was just part of their relationship in a family that she praised for being charismatic, strong and healing.
"This summer in Tahiti, I caught a wave in front of him (Malik), and he said, 'I'm so proud of you,'" Heiberg recounted, noting that was quite a compliment from a surfing professional.