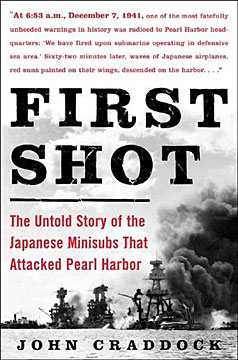 "First Shot -- The Untold Story of the Japanese Minisubs That Attacked Pearl Harbor," by John Craddock (McGraw Hill, $24.95)
New books revisit Pearl Harbor attack
TRICKY, THIS. I've got to dance around a bit reviewing Craddock's history text, particularly since it claims to be the "untold" story of the Pearl Harbor midget submarines. That's because -- disclaimer time -- the story has been told umpteen times over the years in the Honolulu Star-Bulletin and in a book I wrote some time ago on the subject ("Advance Force -- Pearl Harbor," Naval Institute Press).
Of course, you're always curious when another writer covers the same ground you've covered, and it's exciting to see if they've dug up anything new. That's not the case here.
"First Shot" is a quickie rewrite job -- many paragraphs of analysis and storytelling left me with a bad case of déjà vu -- and it's sloppily constructed and edited. Not a good sign when you open it at random, as I did, and the first sentence you see refers to "Fort Shaffer" on Sand Island. Yikes. And it's stingy with pictures.
"First Shot" focuses solely on the midget subs, and the broader context of their operations within the Advance Force assault on Hawaii and the West Coast are ignored.
The book brings us up to date, however, on the midget sunk by the USS Ward and gives us some insight into the jockeying between Robert Ballard's bizarre and goofy National Geographic expedition to find the sub and the Hawaii Undersea Research Lab's measured, scientific -- and ultimately successful -- approach.
Unfortunately, folks at HURL tell me that Craddock's accuracy in this portion is way off the mark. That's too bad, because it's a good denouement that still needs to be told.
---
"Days of Infamy"
and
"End of the Beginning,"
by Harry Turtledove (NAL, $24.95 and $25.95, respectively)
THINGS are more fun with Harry Turtledove's two-volume "alternate history" of the conquest of Oahu by the Empire of Japan. Turtledove is the acknowledged master of the genre, and he cranks these things out. That's because he's developed a formula that works for him: He creates a large "cast" of characters from all walks of life, on both sides, and creates little vignettes for each one that last a page or two before moving on. This advances the framework without messing with a literary plot or anything like a story line. It just lurches forward, page by page.
Fortunately, the details are what make Turtledove's novels so fun, and they're realistic and thoughtful. OK, the Japanese seize Oahu and the Americans try to seize it back, but he doesn't focus on combat. Turtledove is more interested in the psychological and economic effects of an isolated island under siege, and he makes the dilemma quite clear here, ranging from hungry citizens eating pigeons to the inevitable political schism faced by nisei.
Turtledove seems to have done his research about island life -- despite saimin continually spelled "siamin" -- but I'm not sure an invasion force would actually attempt an amphibious landing at Waimea Bay in December, unless they want a really wild ride.
---
"Reflections of Pearl Harbor: An Oral History of December 7, 1941,"
by K.D. Richardson (Praeger, $39.95)
ONLY the Kennedy assassination has prompted more spilled ink than the attack on Pearl Harbor, and "Reflections" is a modest contribution to the scholarship.
Author Richardson constructed the book out of mailed responses, and portions of the book make a valuable addition to understanding the zeitgeist of that memorable day.
Alas, the rest of the book is a reinforcement of clichés -- hey, people were surprised! Nothing was ever the same again! -- and the cover price is a bit stiff to justify such padding.