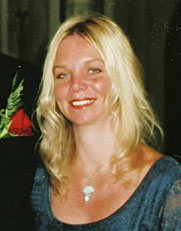 Sarah Fay:
She loved the Big Isle and Hawaiian spirituality
Unborn baby bolsters dead woman's family
The boy is scheduled for delivery around Dec. 11, at 8 months
STACEY FAY says she endures the anguish of seeing her brain-dead sister lying on a hospital bed because of the baby growing inside the woman's battered body.
"Actually, what's helping me get through this is that little baby, being able to touch her stomach," Fay said. "And he was just moving around like crazy yesterday when we were talking to him. ... That made it a lot easier to deal with the pain of seeing her -- the way she looks."
Sarah Marie Fay, a 34-year-old Big Island woman, is the victim of an allegedly abusive boyfriend who is a convicted felon. She is being kept alive at the Queen's Medical Center to preserve the life of her unborn fetus.
If no complications arise, the baby boy will be delivered Dec. 11 or 12, when the fetus will be 8 months. Waiting until then gives him a 95 percent chance of survival with minimal risk of brain damage, doctors told the family. So far, doctors say, the baby appears healthy.
"I just think that it's a miracle he survived the trauma," said Stacey Fay, of Springfield, Ore.
She and brother Michael Fay, who flew in from Denver, spoke yesterday at a press conference at Queen's.
The Fays' mother is undergoing chemotherapy for ovarian cancer in Eugene, Ore., and was unable to make the trip.
Police have declared Sarah Fay legally dead.
But Stacey Fay said she knows her sister, two years her junior, is no longer in pain.
"I know that even though her body's still there, her spirit's someplace good and safe," she said.
Fay was found unconscious the day after Thanksgiving at a Fern Acres subdivision house, with head and bodily injuries. The family heard she was house-sitting and was planning to move to a rental unit.
The suspect in her beating, Marwan Jackson, 24, was arraigned in Hilo District Court yesterday but did not enter a plea.
Jackson was charged with murder, sexual assault, kidnapping, robbery for allegedly stealing Fay's car, and violation of a long-term protective order issued by Family Court to keep him away from Fay.
Judge Barbara Takase ordered him held without bail.
"There have been occasions where the defendant has run from police," Deputy Prosecutor Darren Ching said in a supporting document. Court records show Jackson was found guilty of seven crimes in 2004, including three felonies connected with an incident in which he dragged a police officer 30 feet with his car.
Takase set a preliminary hearing for Dec. 16.
The Fays last spoke with their sister on Thanksgiving, when she sounded happy, and "things seemed to be looking up," Stacey Fay said.
Sarah Fay spent Thanksgiving with Jackson and his family, but the siblings believe she had not been living with him recently.
After his birth, the baby boy will be cared for by the Fay family, but they would not say who would rear the child. Michael Fay and their mother have legal guardianship of the unborn boy.
Fay's two children from a previous relationship, a boy, 10, and a girl, 7, are in child protective services, the Fays said. Their father, who lives in California,* is seeking custody, the Fays said.
The children, they said, were told their mother was in an accident, but they have not been told about her condition.
The children were at Jackson's mother's home at the time of the incident and did not witness the assault, the Fays said.
Sarah Fay and Jackson began their relationship more than a year ago, and it had its ups and downs, Stacey Fay said. She was aware Jackson was mentally and physically abusive toward her sister and called her obsessively.
Stacey Fay said everyone tried to reason with her to end the relationship.
But Sarah Fay remained with Jackson, whom they knew as "Judah," because she told her "she loved him," her sister said.
"She thought she did," her brother added.
Sarah Fay arrived in Hawaii about 11 or 12 years ago and already had friends living here.
Stacey Fay said she hoped her sister will be remembered "not as a battered and abused woman," but for who she was: a beautiful, intelligent woman, a wonderful mother who was deeply spiritual."
Sarah loved the Big Island, the beach and swimming with dolphins, and had a strong interest in Hawaiian spirituality and Hawaiian people and practiced massage therapy, Stacey Fay said.
Fay, who grew up in Champagne, Ill., was a Grateful Dead groupie who followed the group to cities in the Pacific Northwest.
The family was last together in October, when Michael Fay got married in Denver. At the time, Sarah Fay was looking forward to having the baby.
Michael Fay said the sight of his sister left him extremely upset and in disbelief. "Seeing her like that, it hurts," he said.
He said he wants to be by her side when she is taken off life support after the baby is born.
Fay will be cremated, and her ashes will be taken back to Oregon, the family said.
The Hawaii State Coalition Against Domestic Violence counts Fay as the fourth Hawaii woman killed this year by a partner. It will hold a silent march in her honor 5:30 p.m. Tuesday.
Donations for Fay's three children may be sent to the Sarah Fay Memorial Fund, P.O. Box 70696, Eugene, OR 97401.
---
Star-Bulletin reporter Rod Thompson contributed to this report.
CORRECTION
Saturday, December 3, 2005
» The father of Sarah Fay's two children, 10 and 7, moved a few months ago to California from the Big Island, Fay's mother said. A Page A1 article yesterday incorrectly said he lives on the Big Island.
---