---
LEGO MASTER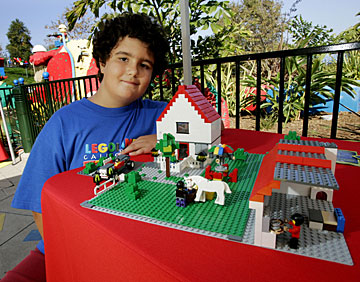 ---
[ MORSELS ]
Starbucks rewards charitable customers
Starbucks Coffee stores will reward customers with a free drink in exchange for the donation of an unwrapped gift to the Salvation Army's Lokahi Giving Project.
Through Dec. 26, bring a gift (suggested value of $5 or more) to Starbucks and receive a coupon for a complimentary tall coffee or tea.
The "Give a Gift, Receive a Latte" program is valid at all Starbucks except airport and Barnes & Nobles Cafe locations.
Last year's gift drive collected more than 12,000 items; this year's goal is 13,000.
The Salvation Army will sort and distribute the gifts to children, the elderly and needy families. Suggested gifts: toys, board games, coloring books, towels, bus passes and movie or video certificates.
Learn from experts at culinary classes
Kapiolani Community College offers these cooking classes in December. Most offer the chance for hands-on experience as you cook along with the instructor. Call 734-9211.
Market to Table Culinary Tour: Chef instructor Grant Sato leads a tour of Chinatown, followed by a cooking class in the KCC kitchen demonstrating how to use the fresh produce from Chinatown's open markets; 8 a.m. to 2 p.m. Dec. 3. Cost is $80
Festive Breads: Chef Mark Silva offers an international selection of holiday sweet breads, including Italian pannetone and Jewish challah; 8 a.m. to noon Dec. 3. Cost: $55.
Party Pupus: Chef Nina Jarrett teaches how to make professional-looking appetizer displays; 6 to 9 p.m. Dec. 5. Cost: $45.
Fruit and Vegetable Carving: A demonstration of Chinese, Japanese and Thai styles of carving; 8 a.m. to noon Dec. 10. Cost is $50
Creative Side Dishes: Chef Alyssa Morreau offers suggestions for side dishes with less fat and fewer calories; 8 a.m. to noon Dec. 10. Cost: $45.