---
[ FAST FACTS HAWAII ]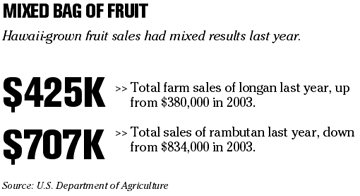 ---
BACK TO TOP


|


HAWAII
Judge likely to delay Aloha Airlines ruling
A five-day hearing on an
Aloha Airlines
motion to terminate the contracts of its flight attendants and pilots is expected to wrap up today with attorneys presenting closing arguments.
Bankruptcy Judge Robert Faris said at the conclusion of yesterday's hearing that he was 99 percent certain he would not rule from the bench and likely would take the matter under advisement. In the meantime, he urged the two sides to continue talking.
The flight attendants, who have made a proposal to the company, said their biggest issue is their rest period on layovers. The pilots, who have made an offer to the company to freeze their pension plan, are upset that the termination of the plan will leave some pilots without 70 percent of their expected benefits and affect others who are on disability.
Aloha said it needs more work-rule changes and the termination of the pilots' pension plan to compensate for high fuel costs and to make sure that its only investors, Yucaipa Corporate Initiatives Fund I LP and Aloha Aviation Investment Group LLC, don't walk away.
NATION
Delta Air pilots offer concessions
ATLANTA » The pilots union at bankrupt
Delta Air Lines Inc.
said in a court filing it is offering the carrier an average of nearly $91 million a year in concessions, which the union contends is sufficient to help Delta trim labor costs to a competitive level.
The disclosure came today in an objection the Air Line Pilots Association filed in response to Delta's request to void its pilot contract. If granted, Delta is likely to impose $325 million in concessions, including a 19.5 percent pay cut and other benefit and work rule changes.
Atlanta-based Delta has about 6,000 active pilots, who agreed last year to $1 billion in contract concessions as the airline sought to avoid Chapter 11.
Google aims to offer easy ads
Google Inc.
, targeting the online auction market dominated by
eBay Inc.
, is seeking to patent a system that creates Internet ads automatically and makes it easier for people to sell products on the Web.
The service may spark new competition for Internet auctioneer eBay, newspapers, and other providers of classified listings including Web site Craigslist.org by making it easier to create online ads. The service may also let Mountain View, Calif.-based Google, the most-used Internet search engine, broaden its advertising client base and increase the number of ads it sells.
Cisco predicts weaker sales
SAN JOSE, Calif. »
Cisco Systems Inc.
's fiscal first-quarter profit slipped as it expensed employee stock options for the first time, but the bigger surprise came when the world's largest network equipment maker predicted weaker-than-expected sales.
The San Jose-based company said it expects revenue for the second quarter of fiscal 2006 to grow 8 percent to 9 percent over last year's $6.1 billion. If it hits the top of the range, it would still fall short of the $6.73 billion expected by Wall Street.