UH FOOTBALL
---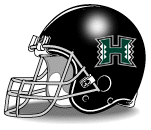 Moreland hits his way into starting spot
All the senior cornerback needed to fulfill his potential was to be healthy enough to show it
Hawaii defensive coordinator Jerry Glanville has noticed a change in cornerback Turmarian Moreland. So have opposing ballcarriers.
The Warrior senior was slated to start in the UH secondary during fall camp, but a sore knee limited his aggressiveness on the field and, subsequently, his playing time once the season began.
But over the past few weeks, Moreland showed the coaches he was healthy and ready to contribute again with his willingness to punish opponents.
"He hit better, he wasn't hitting when he was hurt," Glanville said of Moreland's recent play. "You've got to hit or you don't play."
Moreland hadn't recorded a tackle in three games this season heading into last week's meeting with New Mexico State. He ended the night with a career-high seven tackles and an interception. He also broke up a pass against the Aggies.
"I was just blessed to be in there and get the opportunity to make something happen," Moreland said.
Following productive performances against Louisiana Tech and New Mexico State the last two weeks, Glanville said Moreland would probably make his first career start when Hawaii (2-4, 2-2 Western Athletic Conference) travels to San Jose State (1-5, 0-3 WAC) on Saturday.
"He'll start unless something happens in practice," Glanville said. "He jumped out and played pretty good for us, made some plays."
Whether senior Kenny Patton will be able to start on the other side of the Warriors' defensive formation on Saturday remains to be seen. Glanville said Patton, who watched yesterday's practice from the sidelines, is nursing quadriceps and shoulder injuries.
But Moreland isn't counting Patton out just yet.
"Kenny always comes back," he said. "Kenny might be hurt on Monday and Tuesday, but Kenny's a gamer, by Saturday he'll be back."
Moreland, a 6-foot, 194-pound senior from Florida, came back to Manoa primed to compete for a starting spot after recording 10 tackles and one interception last year as a transfer from Los Angeles Valley Junior College.
But his knee wouldn't cooperate during fall camp and he dropped down the depth chart early in the season.
As Moreland felt better physically, he worked his way back into the rotation. And given New Mexico State's reputation for passing, he looked forward to getting a lot of action against the Aggies.
"We knew what kind of team they were, run and gun, so I was getting prepared to go in there and play," Moreland said. "Especially when we put some points up, all they were doing was throwing the ball. So I could kind of just sit back a little more and see the football and make a play."
He snagged his second career interception late in the fourth quarter, stepping in front of a Royal Gill pass along the UH sideline.
"We played a lot more cover-two (coverage), so he showed up on a lot of things and made some good hits," UH head coach June Jones said. "Turmarian's a good player, he's worked hard."
Chances are San Jose State won't throw the ball 60 times, as New Mexico State did last week. The Spartans average 37 tosses per game and rank fifth in the league in passing with close to 230 yards.
Although the Spartans have lost five straight since winning their opener against Eastern Washington, and have dropped nine consecutive WAC games, the Warriors know they can't afford to overlook SJSU, especially on the road.
"From what I'm hearing they have an offense that's very good," Moreland said. "They're always tougher in San Jose, so it's going to be a dogfight."