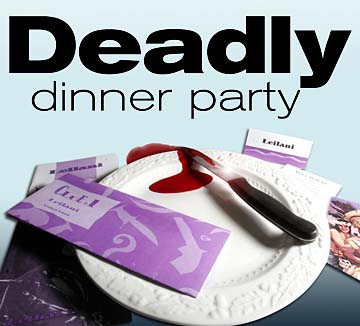 Above photo: "Leilani" is a character in "Lethal Luau," by BePuzzled games. The game kit includes clues and dialogue for Leilani and all the other "suspects."

Crime scene: Your home

Murder suspects: Your dinner guests

The killer: To be revealed
From reading the latest murder mystery novel to watching the popular television series "CSI: Crime Scene Investigation," solving whodunits is a favorite pastime of many a would-be sleuth. But why settle for being a passive armchair detective when you can do it yourself?
Halloween offers the perfect chance to host a murder -- recreate a fictional murder scene, role-play the scenario with friends and rally your finest deductive reasoning skills to guess the killer from a group of cunning suspects.
A murder mystery dinner game is an interactive theme party that offers drama and intrigue, with plenty of unexpected twists and turns. It is an easy party to plan and can prove hilarious to play.
To begin, consider the guest list. While most murder mystery dinner games are designed for adults in general, some are created for special audiences, such as women, singles or teens.
Try to match the theme with the interests of your guests. Friends who have taken a cruise might enjoy a mystery set on an ocean liner, while those who like to gamble may prefer a Las Vegas venue.
Read the instructions to see how much time to allow. Most games require a minimum of two to four hours, although fun-loving guests may take even longer.
Choosing a game
Unless you have the skills to write your own intricately woven script, it's best to seek out a commercial product.
Kits may be purchased for about $30 plus shipping. A commercial game includes invitations, costume suggestions, cassette or CD with background information, suspect profiles, secret clues, visual aids, optional dinner menu and shopping list, placecards and a do-ahead time table.
A quick call around town did not locate any such games at Oahu booksellers or toy stores, so if you want to do this for Halloween, you need to order one soon. They are easy to find online; do an Internet search for "murder mystery dinner," and you'll discover a wide variety of titles and vendors. Some sites provide a synopsis of the game and customer reviews.
You can also look for used games at yard sales or the swap meet, but check the contents list to make sure nothing is missing. Previously owned games are also available at a discount online.
The characters
A typical murder mystery dinner game has roles for six to 10 people. Some also offer suggestions for additional guests who wish to participate as observers.
Prior acting experience is not required, but guests with dramatic flair definitely help make the evening more lively and fun. Veteran surfer Rip Tide and heiress Di Monde are examples of fictional murder mystery characters whose pasts are guaranteed to be as colorful as their names.
The plot
Most murder mystery dinners begin with a recorded announcement of a crime and some background information. The deceased had a relationship with each of the suspects, all of whom have motives for murder and incriminating skeletons in their closets. Each character must tell the truth when asked about details leading up to the murder, but will try to withhold damaging information and cast suspicion on others.
Costumes and props
Suggestions are provided for each character profile. Your guests may choose something as simple as a hat and pair of sunglasses or as elaborate as a full breastplate of armor. Guests who really want to get into character can check out local costume rental companies, thrift stores, or design their own garb.
For safety reasons, play weapons are not recommended.
The menu
Dinner menu suggestions are offered with many packages. A leisurely three- or four-course meal is recommended to provide time for interrogation and so that the secret clues may be revealed course-by-course. Recipes are generally provided.
You have the option of matching the menu with the crime scene venue. For a murder mystery set in Italy, you could serve antipasto, tossed green salad, spaghetti and meatballs, and tiramisu. If the setting is New York, a deli meal of soup, corned beef sandwich, coleslaw and cheesecake would be fitting.
Whenever possible, choose foods that can be partially or completely prepared ahead of time. Arranging a potluck or having pizza delivered is also appropriate. After all, during the dinner party you will want to focus your attention on the dialogue and clues, rather than be stuck in the kitchen.
The finale
At the end of the evening, when the questioning is concluded and all of the clues shared, each guest will try to guess the villain. Because the plots and characters are convoluted, you will most likely be deducing right up to the last minute.
Finally, the killer and motive are revealed. Some of the plots are rather far-fetched, so be prepared for a surprise ending.
---
BACK TO TOP
|
An affair to dismember
A sample set-up for a murder mystery game, from Decipher Inc.
To my dearest friends, both living and dead,

It is with ghoulish pleasure that I announce my engagement to Lizzie Bordeaux, the mistress of the Motel California. I will be throwing a weekend bash for Halloween at my castle, which will culminate in an engagement party the likes of which has never been seen in Transylvania.

No doubt most of you already know each other, as we travel in the same circles and haunt the same crypts. I promise food, fun and terror for all. I've even put in a special order for a dark and stormy night. So cancel whatever other plans you might have because I will not take "no" for an answer. I guarantee it will be a night to die for!

Eternally,

Neville Aster-Night
Characters: The Mummy of King Aldrintotat, Balihi, Asthmadeus, Hannibal Schecter, Glumda, Angela Deth, Aretha Garlique and Lizzie Bordeaux
---
BACK TO TOP
|
Recipe for murder
This recipe from the murder mystery dinner game "Lethal Luau" (BePuzzled games) can be prepared ahead of time, allowing the host to be a full participant in the game.
Papaya, Avocado and Pineapple Salad
1/4 cup fresh lime juice
2 tablespoons olive oil
2-1/2 teaspoons sugar
1/2 teaspoon salt
2 cups fresh pineapple, cut into 1/2-inch-thick wedges
1 ripe avocado, peeled, halved, pitted and thinly sliced
1 large ripe tomato, cored and cut into 12 wedges
1 small red onion, halved and thinly sliced
1 large papaya, peeled, halved, seeded and thinly sliced
In a large serving bowl, whisk together the lime juice, oil, sugar and salt. Add the pineapple wedges, avocado, tomato and red onion. Just before serving, add the papaya and toss to combine. Serves 6.
Approximate nutrient analysis per serving: 160 calories, 9 g total fat, 0.5 saturated fat, no cholesterol, 200 mg sodium, 26 g carbohydrate, 6 g fiber, 10 g sugar, 2 g protein
Note: Add papaya at the end, as the enzymes in it will cause the other ingredients to break down if added earlier on; however, it may be added 30 minutes before and it may be cut several hours ahead.