HAWAII INT'L FILM FESTIVAL
---
Ang Lee continues to challenge emotions with his latest film
His voice is vulnerable, his words carefully expressed, but Ang Lee makes it clear that he is fearless about exposing the deepest, darkest feelings imprinted on the human character.
The Taiwanese director's films represent the broadest spectrum of any filmmaker of his generation, focusing on the interactions between modernity and tradition -- from the mythical Asian action film "Crouching Tiger, Hidden Dragon," to the fun and frivolous "Incredible Hulk," to the gut-wrenching soul searing of "The Ice Storm" and "Sense and Sensibility."
Lee again is challenging society's rules, this time regarding enduring male friendships, with "Brokeback Mountain," an epic western about forbidden love, which makes its U.S. debut next Monday at the 25th annual Hawaii International Film Festival. It is one of the hottest tickets of the festival.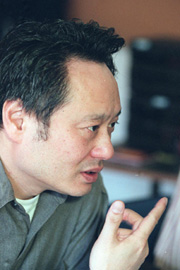 "The film is about feelings of love and loneliness that anyone can relate too."

Ang Lee,
Talking about his new film, "Brokeback Mountain
The film, an adaptation of E. Annie Proux's novella, tells the story of a homosexual love affair between two cowboys played by Jake Gyllenhaal and Heath Ledger. It won the Golden Lion award at the recent 62nd Venice Film Festival in Italy.
"It's really just a great American love story," Lee said yesterday in a telephone interview from London.
"I do not feel so courageous for doing it," he said. "Maybe it seems like it would take some courage, but once you're involved in it and read it and believe in it, once you get in that zone, it's a lovely, very benign love story, a sad, tragic, poignant, realistic western."
Dismissing "Brokeback" as a film about gay cowboys would do it injustice, Lee said.
"The film is about feelings of love and loneliness that anyone can relate to," he said. "If you open yourself to the story, you will discover that it's not provocative, or a comedy or a parody or 'Blazing Saddles.' I think some will say how dare us to be serious about this."
Lee is disappointed that he will be unable to come to Hawaii for the film festival. It was here, during a showing of "The Ice Storm," that he met his close friend, HIFF board member Angie Laprite*, who helped arrange this interview.
"I really wanted to go, but the publicity tour for 'Brokeback' is a bit crazy."
"Brokeback Mountain" seems to be everything you ever imagined about the characters played by John Wayne and Montgomery Clift in "Red River," or Joel McCrea and Randolph Scott in "Ride the High Country," with those films' underlying themes of deep affection. Lee's concept was to show that love "has no boundaries."
"Love is love, essentially," Lee says. "We put limitations on it that keep us in a comfort zone."
Gyllenhaal's and Ledger's characters are two men who have been the closest of friends for more than 20 years.
"They fall in love for all the reasons that men and women fall in love," Lee said. "As cowboys they live a lonely existence, but they find each other."
The film follows Ennis Del Mar (Ledger) and Jack Twist (Gyllenhaal), who meet in 1963, both looking for a summer's work herding sheep on Brokeback Mountain, Wyo. -- actually Calgary, Canada. No-nonsense rancher Joe Aguirre (Randy Quaid) requires one of the men to roam high in the mountains, sleeping with no fire, while the other maintains a base camp with a one-man tent throughout the summer and into the fall.
Ennis and Jack don't talk much, but do share their pasts: Ennis was raised by his brother and sister after their parents died in a car crash, and loves a woman named Alma whom he plans to marry. Jack tells of stern parents and working the Texas rodeo circuit.
The two men come to rely on each other completely. One night, Ennis decides to sleep by the fire rather than head off to his lonely post. But when the fire dies, and he's freezing, Jack tells him to join him in his tent. Their sexual relationship begins that night and continues through the summer.
After they leave the mountain, Ennis marries Alma; Jack weds Lureen. But the men's shared passion remains, and their affection for one another grows. Over the years they find ways to spend time together back on Brokeback Mountain.
"This is the kind of connection people dream about making with another human being," Lee says. "Everybody has a Brokeback. If we're lucky, we get to go there."
He auditioned several actors for the key roles before selecting Ledger and Gyllenhaal.
"They're very fresh and innocent and at pivotal points in their careers," Lee said. "My criteria was the actors had to believe the story and the characters.
"I didn't care how they did it, but they had to really care. They had to zone into it and use whatever they have to understand and believe in the attraction, chemistry and sexuality and go from there."
Lee's passion for the story is based on a simple principal: "I believe this is very possible, that it is true, that it's human. In doing art you must borrow from some experience. It is the key for acting, and if you don't believe in the character, who will? Whether the audience is the gay community or the straight world, you must invest that kind of belief."
Lee believes "Brokeback" will have general audience appeal, although at first he'd thought it would succeed only in art houses. But preview responses have been warm, he said. "People took it as a love story, and it seemed a very moving experience for them. Many people want to share that illusion of relationship and affection."
Lee is acutely aware that "Brokeback" is likely to touch men who have lifelong buddies. "There goes the cover for going fishing with all your buddies," he says, laughing. "I think it may blow the cover for many guys."
In real life, Lee says, the lines for same-sex friendships and sexuality are clearly drawn. "We want it easier to govern these things so we separate what is allowed very clearly," he said. "Ah, but in the movies the line is rather thin.
"Maybe (in 'Brokeback Mountain') Mother Nature did something, or the landscape did, or the sheep. I don't know, but human nature is complicated. It cannot be divided that clearly. A dramatist's job is to examine humanity."
CORRECTION
Tuesday, October 18, 2005
» Angie Laprete is a board member of the Hawaii International Film Festival and a longtime friend of director Ang Lee. Her name was misspelled in an article on Page D7 yesterday.
---