Hawaii has harsh policies, study says
High taxes, a steep minimum wage and the nation's highest electricity costs are among the reasons Hawaii has one of the worst government policy environments in the country for entrepreneurs, a study by a Washington, D.C., think tank reported yesterday.
The Aloha State ranked 46th out of 50 states and the District of Columbia in the Small Business & Entrepreneurship Council's 10th annual ranking of states based on public policy climates for small businesses.
Hawaii's ranking in this year's "Small Business Survival Index" would seem a slight improvement over last year, when the state ranked 49th. However, the study's author, Raymond Keating, said it's impossible to compare one year's results to another because the study is continually being refined.
This year's study examined more than two dozen public policies that affect businesses, entrepreneurs or both. It includes policies on personal income, capital gains, corporate income and consumption taxes, workers' compensation rates, health insurance mandates, electricity costs, labor laws and property taxes. The purpose, Keating said, was to measure which states' policies were the most friendly or unfriendly to small businesses and entrepreneurs.
The study did not examine other factors that affect people's decisions on where to start or maintain a business, such as the environmental and quality-of-life factors that make Hawaii an attractive place to live and work.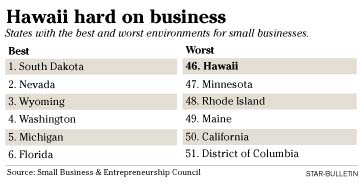 ---
Although Hawaii benefits from low property and gasoline taxes, it suffered from "many negatives," including high income, unemployment, capital gains and consumption taxes, as well as the nation's highest electricity costs.
"Hawaii is one of those states, where, when you rank that poorly on the index, it's usually more than just a few measures," said Keating, the council's chief economist. "It's kind of a piling-on effect when you get down in those areas of the worst-ranking states. It tells elected officials that they have work to do in a lot of different areas."
The report comes out just as Hawaii's economy is surging because of real estate development and a vibrant tourism industry. The unemployment rate is hovering near historic lows, at just 2.6 percent, even as the state's work force has grown -- suggesting that people are migrating to the state for work or jumping back into a worker-friendly job market.
Asked whether this belies the conclusion of his index, Keating said: "I think you've certainly hit on something. There are obviously other factors that come into business and economic decision making, and being in a nice climate like Hawaii is part of the equation.
"But what we're trying to get into with the index is whether government is a plus or a minus when it comes to policy."
State Sen. Sam Slom (R, Hawaii Kai) said Hawaii's political climate has made it difficult to effect any change to the state's tax laws, even though Hawaii often ranks near the bottom of the various lists that measure the business climates of various locales. Small business owners generally lack the time to mount aggressive legislative initiatives, and business lobbying groups have been largely ineffective, said Slom, who is also president of Small Business Hawaii, an advocacy group.
Slom said policy-makers often become defensive in the face of such studies and fail to see them as constructive criticism.
"You can either ignore them, or say, 'They don't know us, we're a special place,' or you can look at them and say, 'We're ignoring the problem here, and we need to do something about it,'" he said.
Mark Anderson, deputy director of the state Department of Business Economic Development & Tourism, said although the study might have some flaws, it underscores the need to improve the climate for small-business owners.
"That's one of our top priorities," Anderson said. "We need to keep working hard to make things better."
Mike Fitzgerald, president and chief executive of the economic development organization Enterprise Honolulu, said studies such as the Small Business Survival Index are fundamentally flawed because they put too much emphasis on tax policy and not enough on the other factors that attract the highly mobile "knowledge-based" workers that fuel high-growth potential industries.
For example, Fitzgerald noted that scarcely populated South Dakota and Wyoming, which rank first and third on the recent study, often rank high on such indexes.
"How absurd is that?" he said. "Who the hell's going to go to South Dakota or Wyoming?"
In fact, Fitzgerald said, businesses and workers often want amenities that carry costs to businesses through taxes or regulation: good transportation infrastructure, public schools, parks and a clean environment. The issue in Hawaii, Fitzgerald said, is whether taxpayers are getting adequate services in exchange for what they are paying.
"What are we getting for our money? Are we getting value?" he said. "That's what government leaders need to demonstrate that they're doing: delivering quality and value."