Gas to rise 9 cents
An expected drop in prices nationwide will not have an immediate effect here
Hawaii motorists will have to wait at least another week to see the falling gas prices that analysts predict for the rest of the nation.
Under gas price caps published yesterday by the Public Utilities Commission, the maximum price at which wholesale gas can be sold will increase 9 cents when the new price ceilings take effect Monday.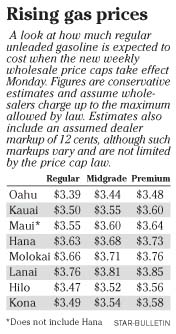 Assuming that dealers charge up to the maximum allowed, the price for regular unleaded on Oahu would be about $3.27, not including any markups by dealers.
Such markups are not regulated by the cap, leading to wide variances in prices from dealer to dealer, even within a few blocks of each other.
Under current price caps, the assumed cost of gas without any markups would be about $3.18 a gallon. But prices for regular unleaded at three stations around Kahala Mall ranged from $3.18 to $3.35 and $3.41 a gallon yesterday.
Analysts had predicted prices were likely to be high in the initial weeks of the price caps while the market adjusted to the new regulations.
Jack Suyderhoud, a University of Hawaii business economics professor who has been tracking prices since the caps took effect Sept. 1, noted that last week and the week before, when the price caps decreased, some stations were slow in reducing prices.
"It may be because they took some losses in that week when the cap went up a lot and they were buying expensive inventory and maybe they couldn't sell it at the adequate price to give them a return, so they're making up for that," Suyderhoud said.
"The other thing that may be contributing ... is that they were probably expecting prices to rise anyway, so why drop them all the way down when all you're going to have to do is raise them later anyway?"
Next week's increase comes on the heels of a 25-cent spike in prices this week, reflecting the hit the nation's oil supply took from Hurricane Rita.
Analysts say prices should fall nationwide as demand for gasoline drops and as supplies begin to stabilize because more oil facilities in the Gulf Coast continue to recover from Hurricanes Katrina and Rita.
While there was some evidence that prices might have peaked -- yesterday's nationwide average for regular unleaded was unchanged from the previous day -- Hawaii's prices have been slower to match the mainland trends.
The lag is mostly due to the pricing schedule. Caps for each week are posted on the preceding Wednesday, based on an average of spot wholesale prices in the Gulf Coast, New York and Los Angeles from the five business days leading up to the publishing date.
Hawaii's statewide average of $3.29 a gallon for regular unleaded was 4 cents higher than the previous day and the highest in the country, according to AAA's Fuel Gauge Report. The national average held steady at $2.94 as gallon, AAA said.
Meanwhile, U.S. Sen. Daniel Akaka returned to Washington, D.C., yesterday after he and other members of the Senate Committee on Energy and Natural Resources spent a few days in the Gulf Coast assessing damage to the region from the recent hurricanes.
The group visited refineries, natural gas pipelines, petrochemical plants and electrical facilities in Louisiana, Mississippi and Alabama. Findings are expected to be discussed in committee hearings today as federal lawmakers continue reviewing the federal government's response to the hurricanes.
"As we flew over some of the most devastated parishes of New Orleans to understand how the levees breached, it became even more apparent that what we are doing in Congress is not enough," Akaka, D-Hawaii, said in a statement. "We must carefully examine what must be done to prevent future disruptions in the oil markets, the supply of gasoline and provision of electricity and natural gas."