Hawaii hotel occupancy
hits 85.5%
Local hotel and resort occupancy improved slightly last month from a year earlier, the accounting and consulting firm PKF-Hawaii said yesterday.
The statewide average occupancy level last month was 85.5 percent, compared with 83.25 percent in the previous August. The increase was accompanied by a 10.1 percent increase in room rates to a statewide average of $185.20 a day.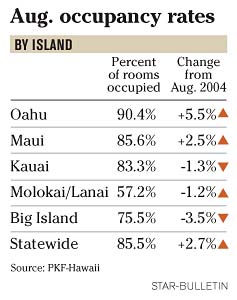 PKF-Hawaii, which has monitored hotel performance for the tourism industry since 1972, said occupancy was up on Oahu and Maui but declined on the other major islands. While occupancy might be going up and down across the islands, room rates are rising steadily as hotels have elected to make improvements to meet demand for better properties.
"We continue to see a shift from economy and moderate properties to superior-and-above hotel room categories," said Ken Phillips, staff vice president for Pleasant Holidays LLC, Hawaii's largest travel wholesaler.
Oahu showed the best improvement, with an increase of nearly 5 percentage points in occupancy to 90.5 percent last month. That coupled with a 15.8 percent increase in the island's average daily room rate, to $137.01 compared with $118.31 a year earlier.
Contributing to the Oahu's gain was a 177 percent increase in meeting, convention and incentive visitors during the month. The Hawaii Convention Center hosted delegates from the American Legion, the Academy of Management and the Microscopy and Microanalysis 2005 annual session.
Convention business also boosted tourism on the neighbor islands last month, said Joe Davis, general manager of the Hawaii Convention Center for SMG Hawaii. "About 40 percent of our delegates visit other destinations in Hawaii," he said.
Maui's occupancy rose to 85.6 percent from 83.5 percent a year earlier. Maui's average room rate of $283.67 last month was up 9.4 percent from $259.21 in August of last year.
Kauai occupancy last month was 83.3 percent, down from 84.4 percent, and the Kauai room rate was $179.55, up 5.1 percent from $170.77.
Molokai occupancy edged down to 57.15 percent from 57.85 percent, but its average room rate rose 12.2 percent to $125.15 from $111.57.
The Big Island's average daily rate in August was $211.18, up 8.1 percent from $195.37. Occupancy on the Big Island slipped to 75.5 percent from 78.2 percent.