Kauai suffering
growing pains
Leroy Laney says the island's
economy looks good, but its traffic
and housing costs are worsening
Kauai will continue to enjoy a robust economy, but the trade-off for residents is heavy traffic and a lack of affordable housing, a local expert said yesterday in a speech.
Leroy Laney, a Hawaii Pacific University economics professor and consultant to First Hawaiian Bank, made a forecast for the Garden Island yesterday at the 31st annual Kauai Business Outlook Forum.
The forecast for the Kauai economy this year and next calls for job growth in the 2 percent range, with an inflation-adjusted personal-income growth of 2 percent to 3 percent and population growth of about 1 percent, Laney said.
While the economy looks good, nearly everyone contributing to a recent survey expressed concern about the island's traffic congestion and lack of affordable housing, he said.
Kauai's strong growth could result in negative side effects if the corresponding increases in housing prices can't be sustained, Laney said.
"The median price of a single-family home on Kauai averaged $600,000 over the first six months of this year, up 29 percent from the same period in 2004," Laney said. "One wonders about the future of an economy in which those who make it run can't afford to relocate or stay here."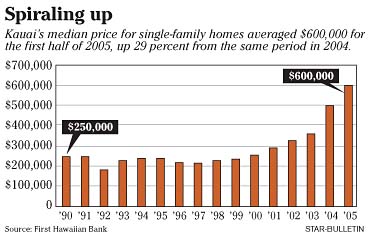 ---
He said the situation is painful for new entrants to Kauai's market and those who are considering moving to the Garden Isle. Even more, it extends beyond working-class families into the professional ranks, he said.
"An economy cannot continue to function without many of these positions," Laney said. This is a problem statewide, but it's emerging as being particularly acute on Maui and Kauai, he said.
Eventually, the limits of affordability will bring Kauai's current real estate cycle to an end -- hopefully with a soft landing, Laney said.
Traffic also has the potential to erode the quality of life on the Garden Isle, where congestion is concentrated along two main arteries: Route 50, coming into Lihue from the West, and Route 56, running into Lihue from the North.
Residents and visitor have started to complain of lost time, Laney said.
"During a period of economic strength, falling behind on infrastructure can be very serious because it's so hard to catch up," he said.
The Kauai unemployment rate has fallen to that of the entire state, an odd development because the neighbor islands usually have a higher jobless rate than Oahu, the center of the economy, he said.
"Kauai's heated economy has been creating jobs faster than the state, but a slowdown is evident in the face of a shrinking labor supply," Laney said.
The Kauai tourism industry has continued to be very healthy this year on all fronts, including hotels, time-share, rentals, activities, restaurants and retail, Laney said. Total visitor arrivals on Kauai were up 2.1 percent through June of this year. That's less than increases on Oahu or the Big Island, but Kauai has been closer to capacity for a long time, he said.
Westbound tourist arrivals on Kauai were up 3 percent in the first half of 2005. The higher-spending U.S. East market, which has become increasingly important to Maui in recent years, grew about 8 percent on Kauai.
The construction industry on the Garden Isle remains hot, thanks to strong demand, continued low interest rates and a strong economy, Laney said. And the future looks strong: Kauai has more than 46 resort and residential real estate projects in the pipeline that will bring an additional 11,000 units to the island in the next five years, he said.