---
[ FAST FACTS HAWAII ]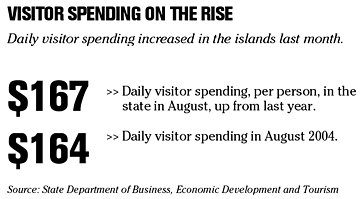 ---
BACK TO TOP


|


HAWAII
Zoom Airlines will fly Toronto-Oahu route A Canadian airline announced new service yesterday from Toronto to Hawaii in time for the Christmas holidays.
Zoom Airlines will offer the only direct service from Toronto's Pearson International Airport to Honolulu starting Dec. 17, the airline said in a news release.
The Toronto-Honolulu service will run every Saturday until April 29, the airline said.
Hawaiian Airlines hearing delayed
Former Hawaiian Airlines trustee Joshua Gotbaum's hearing on his request for an $8 million success fee for running the carrier through bankruptcy has been postponed from tomorrow to Oct. 27.
A similar request by Hawaiian Air consultant Simat Helliesen & Eichner Inc. for a $1.75 million success fee also has been rescheduled to the same date. No reason was given for the delay.
NATION
Horizon Lines gains in first trading WASHINGTON » The stock of ocean shipping company Horizon Lines Inc. set sail yesterday, trading up in its first day of trading after slashing its initial public offering price.
The Charlotte, N.C., company's stock closed at $10.75 a share on the New York Stock Exchange, up from its IPO offer price of $10 a share.
Horizon's 12.5 million shares priced last night at the low end of the $10 to $12 range it set in its most recent prospectus.
That revised range was well below what the company had originally sought -- $15 to $17 a share. Goldman Sachs Group Inc. and UBS AG lead-managed the offering.
Horizon's chief executive, Charles G. Raymond, told Dow Jones Newswires today that the debut was a "good start" and said he was pleased with the offering.
SEC expands Taser investigation
PHOENIX » The Securities and Exchange Commission inquiry into stun-gun maker
Taser International Inc.
is now a formal investigation with an expanded scope, the company said yesterday.
Shares tumbled more than 13 percent after the announcement.
The company had previously said the SEC was looking into claims Taser has made about safety studies for its stun guns and has also been looking into a $1.5 million, end-of-year sale of stun guns to a firearms distributor in Prescott. Some stock analysts have questioned the deal because it appeared to inflate sales to meet annual projections.
The formal investigation is now also examining the possibility that outsiders acquired internal company information to manipulate the stock price, Taser said in a news release.