---
$650M Kakaako
project unveiled
The plan includes an amphitheater,
voyaging center and farmers market
» Project caters to residents, not tourists
A subsidiary of Alexander & Baldwin Inc., one of the last remaining members of the former Big Five companies, was selected yesterday to redevelop Kakaako's prime waterfront lands at a cost of about $650 million.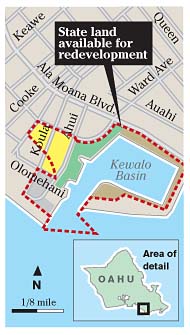 The Hawaii Community Development Authority, the state agency responsible for governing growth in Kakaako, ranked A&B Properties Inc. as its top choice to master-plan an approximately 65-acre tract makai of Ala Moana Boulevard. The proposal submitted by A&B will bring to the area 220,500 square feet of new retail and dining attractions, three 20-story residential towers and 2,928 parking spots, said James Kometani, HCDA chairman.
"HCDA is very excited about A&B's proposal and its cultural appropriateness to the Kakaako waterfront," Kometani said. "We believe that their Hawaii roots and their business successes will ensure that the Kakaako waterfront will not only serve as a gathering place for Hawaii's people, but will also serve to create new opportunities and strengthen Hawaii's economy."
The plan, which will link the waterfront between Ala Moana and Kakaako parks with a pedestrian walkway, also will include an oceanfront amphitheater for hula halaus, a center for Polynesian voyaging and water sports, and possibly a surf museum at the mouth of Kewalo Basin. A farmers market and a variety of retail and dining shops are planned Ewa of the basin.
Just off Ahui Street, A&B will build 947 condominium units combined with 30,000 square feet of retail space on 7.5 acres the company plans to buy from the state for $50 million. As part of its agreement with the state, A&B will lease the other lands in the project for about $600,000 a year. The project could break ground within 24 months, but the entire build-out likely will take 10 years, said Mike Wright, a senior vice president for A&B Properties.

» Hula Kai: A 10-acre site with an amphitheater for hula, 15,000 square feet of retail and dining, and 200 parking stalls.

» Kewalo Village: A 10-acre site with 150,000 s.f. of retail and dining, 584 parking stalls, and a footbridge connecting Ala Moana and Kakaako.

» Na Hale Kai: A 7.5-acre site with three 20-story residential towers, 30,000 square feet of retail and dining and a pedestrian promenade linking residential areas to the Children's Discovery Center and the John A. Burns School of Medicine.

» Kewalo Parkside: A 9-acre site with 17,000 square feet of retail and dining and 142 parking stalls.

» Holoholkai: A sail-like tensile structure anchoring the side of the pedestrian bridge located at the Diamond Head tip of Kewalo Basin.



"This is the largest project that we've ever worked on," said Wright, who has worked with the HCDA before. In July the company received approval from the agency to complete A&B's third high-rise residential condominium on Oahu, a 42-story, 352-unit building named Keola Lai. Construction on that project, which is located in Kakaako at the corner of South and Queen streets, is expected to start early next year.
Though it has been a long time coming, development of Kakaako's waterfront is central to the state's plan to create an integrated business and waterfront community in urban Honolulu, said Ted Liu, director of the state Department of Business, Economic Development and Tourism.
The economic stimulation that results from this project will ripple across urban Honolulu to link all of the businesses within the districts that encircle Kakaako, he said. A 1-mile radius from the center of Kakaako encompasses the entire downtown financial district, the edges of Chinatown, Ala Moana Center and the Kapiolani Boulevard business area.
"I think the people of Hawaii will find that this is a project that makes them feel good about themselves," Liu said. "This is not Waikiki. It's something our people, our local residents, can come and enjoy."
Many plans for Kakaako have come and gone since the state first revealed its vision to create an active waterfront where people can live, work, play and learn. In the last decade, master-planners have proposed grand themes that ranged from Disneyland-style amusement parks to new aquariums and a Hawaiian-style circus. In the end, developers say the area will remain largely what it is, a waterfront park for the people of Hawaii.
"We've been here 135 years, and we expect to be here at least 135 more," said Stanley Kuriyama, A&B Properties' chief executive, at a press conference following yesterday's selection. "It's real important for us to create a gathering place that commits to our Hawaii roots and heritage."
Kuriyama said the project was modest compared with some that were proposed.
"While our design concept may not be the most extravagant or grandiose, it represents a pragmatic and sensible approach that is founded upon the cultural context of the place, sound market support and prudent feasibility," he said.
Kewalo Nui Partners LLC, which was runner-up, proposed an "urban village" with a farmers market, fisherman's wharf, promenade boardwalk, aquarium, science "exploratorium," planetarium and cultural performing arts center, as well as residential units and retail space.
Stanford Carr Development LLC's project, which placed third, called for such amenities as a $33 million "Ocean Discovery Center" with a University of Hawaii aquarium and a cultural center that was to be the home of the Polynesian Voyaging Society's famed sailing canoe, Hokule'a.
Stanford Carr's proposal, which also included a $25 million bridge and water taxi over the Kewalo Basin ship channel, residential units, and retail space, carried a $900 million price tag.
The public can review A&B's proposal at the HCDA office. The agency has set a four-month review period, giving A&B time to tweak the plan before it goes to a final public hearing.



Time line for the Kakaako project

» A&B Properties Inc. has set a 10-year build-out for its entire Kakaako waterfront project.

» Four months from now, A&B will go before the Hawaii Community Development Authority for final approval on the project. In the interim, the public may review the plans at the HCDA office.

» If the plan is approved, A&B estimates the $650 million project will take 24 months to break ground.

» The residential towers likely will be completed in the next four years, with the rest of the project to follow.



---
BACK TO TOP
|
Developer says project
caters to isle residents,
not to tourists
As swells barreled into the beach at Point Panic yesterday, Jacob Ledesma surveyed an artist's rendering of A&B Properties' proposed Kakaako waterfront development project and delivered his judgment.
"As long as there's room for us, brother, it's all right," said Ledesma, a 29-year-old surfer who uses the point as his summer hangout. "It looks all right to me."
Ledesma's comments echoed those of others at Kakaako Beach Park, where A&B Properties has won the contract to develop a $650 million mixed-use project that will include 947 housing units, an amphitheater, marina and more than 200,000 square feet of dining and retail space.
Yesterday's meeting, during which the Hawaii Community Development Authority selected A&B's proposal over three others, was largely a formality, followed by a beach-side press conference. It was a contrast to a hearing earlier this month where the HCDA drew a public outcry when it discussed plans to change land-use rules governing the beach park to allow development of high-rise buildings there.
After the meeting yesterday, the main question for Ledesma and others at the beach was whether the oceanfront project will ruin one of their favorite surf spots.
"That's the major concern for everyone right now," said Analu Tomoso, 45, who said he has been coming to the spot for the past 25 to 30 years.
Among the major issues, Tomoso said, is whether there will be enough parking to enable locals to come to the beach. Although A&B has plans for nearly 3,000 parking spaces in the development, Tomoso said he feared those would be largely taken up by residents, their families and other visitors.
Peter Apo, director of culture and education for the Native Hawaiian Hospitality Association and a project consultant for A&B, said the development is designed with people like Tomoso in mind. It will not only allow locals to enjoy water sports, Apo said, but also to perform hula and to showcase and sell their handmade wares.
"This is one of the few developments that allows the shoreline to be basically free of buildings," Apo said. "It's not being developed for tourists, but for the local people."
Still, others raised fundamental concerns.
Michael Kliks, who represents a park advocacy group that is wary of development along Kakaako's waterfront, said he and others will watch the state closely in the next four months to ensure that A&B's final plan does not overshadow the waterfront. Already, Kliks said, high-rise development in Kakaako has taken away the ocean view that he once enjoyed from his home in Manoa.
"How can they justify turning a major ocean resource into a restricted area for rich people?" he said.
Nancy Hedlund, a professor of psychology and associate vice president for planning and assessment at Hawaii Pacific University, called the project a public policy "disaster," the product of a political system that allowed little public input in the planning stages.
For example, Hedlund said, the HCDA changed rules to allow for high-rise condominiums at the site months after the agency issued a request for proposals from developers. The result, she said, was a public hearing that allowed the public little opportunity to affect policy.
"There is no citizen input for what the HCDA is doing," she said. "They're setting policy by default."