WARRIOR FOOTBALL
---
Glanville will
pare playbook
Hawaii's defensive coordinator
looks for ways to improve after
allowing 105 points in two games
Jerry Glanville hopes subtracting from the Hawaii football team's defensive playbook will add up to a more effective product on the field.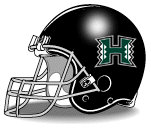 The veteran coach's first season as UH's defensive coordinator has gotten off to a rocky start, with the Warriors giving up a combined 105 points to No. 1 USC and Michigan State in the first two weeks of the season.
So to address some of the breakdowns, Glanville plans to scale back the Warriors' scheme as they prepare for next week's Western Athletic Conference opener at Idaho.
"I believe that if your team is making a mental error you subtract, you take away packages," Glanville said yesterday. "A mental error is my fault. I'm the coach, I'm responsible. A mental error is not a player's fault. I didn't get the job done teaching the thing.
"The best way for me to stop the mental errors is take out phases of the package. We'll whittle it down and do it right. ... Then and only then will we go back and add some other things we think we can handle."
The Warriors ranked near the bottom of the country in defense last year and struggled to contain two high-powered offenses to open this season, surrendering touchdowns on 13 of 20 defensive series.
The Warriors have a bye week to recharge for their WAC opener, and Glanville indicated there will be some changes when the team takes the field in Idaho on Sept. 24, starting with a pared-down play list.
"If I had to do it all over again, I'd probably go into the first two games with half as much taught as what we had," he said.
Big plays have bedeviled the Warriors in their first two games, as UH gave up nearly 8 yards per play and yielded four touchdowns of 41 yards or more.
With UH trailing for most of those games, Glanville has had to remain aggressive in his play-calling to try to create opportunities for the defense.
"I'll never coach -- I never have and never will -- to try to make it close," Glanville said. "If you go out on us, we'll go out and try to get the ball back, we'll try to make a play.
"If you're drowning it doesn't matter if you're drowning in the Atlantic or the Pacific. So you always try to create something that will help you win the game."
After studying tape of the game Sunday night and into the early hours of yesterday morning, Glanville found reason for optimism in the Warriors' second-half performance in the 42-14 loss to MSU and the play of linebackers Tanuvasa Moe and Brad Kalilimoku and safety Lono Manners.
Moe and Kalilimoku led UH with nine tackles each. Manners was credited with four tackles and broke up a pass.
"You have to take your hat off to them," Glanville said. "They don't know the score of the game, it doesn't matter. Their effort, their intensity, their hitting was just unbelievable."
He wasn't as pleased with defensive tackle Reagan Mauia, who was flagged for a personal foul for a late hit on MSU quarterback Drew Stanton and unsportsmanlike conduct late in the game.
"If you do that, you can't play," Glanville said. "I will not tolerate 30 yards on one drive from one player. I'm disappointed in that, he's disappointed in that. No one's madder at him than he is at himself, so that means we can fix that."
Despite the Warriors' early struggles, Glanville remains confident they'll get things turned around sooner rather than later.
"I promise you, very quickly we'll become something special," he said.
Injury update: The UH defense took another hit on Saturday as defensive tackle Renolds Fruean suffered a sprained right ankle and is listed as doubtful for the game at Idaho.
Fruean topped the depth chart at nose tackle in fall camp, but a hip injury kept him out of the USC game.
The Warriors have already lost safety Leonard Peters and slotback Jason Ferguson to knee injuries.
Kalilimoku (strained left hamstring), offensive lineman Dane Uperesa (sprained right ankle), and quarterback Colt Brennan (sprained right shoulder) are listed as probable.
Back to work: The Warriors have a light week of practice scheduled. They had yesterday off and will practice today, tomorrow and Thursday afternoons before taking the weekend off. They resume preparations for the Idaho trip Monday morning.
Filling in: Glanville handled yesterday's press conference in place of head coach June Jones, who is spending some time on the mainland before returning.
Glanville mentioned that Jones has been dealing with a family-related issue since before the USC game.
"When I have a family crisis, June and I talk football. And when June has a family crisis, June and I talk football," Glanville said.
Weekly honors: Idaho quarterback Steven Wichman was named WAC offensive player of the week after throwing for 390 yards and three touchdowns in the Vandals' loss to UNLV. New Mexico State linebacker Jimmy Cottrell claimed the defensive honor for the second straight week. Fresno State punt returner Clifton Smith earned the special teams award.
UH's nominees were Brennan (219 passing yards, two touchdowns against MSU), Kalilimoku and punter Kurt Milne (39 yards per punt).
Kamehameha graduate Caleb Spencer was Nevada's offensive nominee after catching seven passes for 126 yards and a touchdown in the Wolf Pack's loss to Washington State.