---
[ FAST FACTS HAWAII ]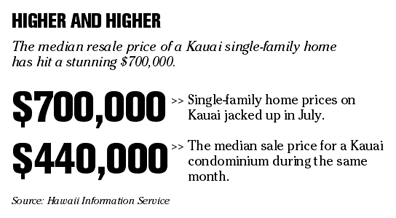 ---
BACK TO TOP


|


Bankruptcy filings continue to soar
Statewide bankruptcy filings soared last month -- their fifth consecutive year-over-year gain -- as Hawaii residents scrambled to get ahead of a new federal law that will make it harder and more expensive to file for financial relief.
Total filings in August jumped 47.5 percent to 360 from 244. For the year, filings are up 10.9 percent to 2,387 from 2,153.
The new law takes effect Oct. 17.
Central Pacific closes acquisition
Central Pacific Bank
has completed its acquisition of Hawaii HomeLoans Inc. and created a new subsidiary with a combined volume of $697 million in residential mortgage loans through the first eight months of the year.
The new subsidiary, Central Pacific HomeLoans Inc., will offer expanded product lines and multiple investor sources, increased service and greater convenience with the addition of three full-service mortgage offices. They are in downtown Honolulu, Kona on the Big Island and Kahului, Maui.
All employees from Hawaii HomeLoans Inc. and the Central Pacific Bank mortgage division were retained with the new subsidiary. Central Pacific Bank operates 37 branches statewide.
Hawaiian Airlines is rarely late
Hawaiian Airlines
was the most-time carrier in the nation in July and had the fewest cancellations and the best baggage handling record, the airline said.
Hawaiian's flights were 96.4 percent on time, well ahead of the industry average of 70.9 percent.
Boeing machinists begin striking today
SEATTLE » Machinists at
Boeing Co.
voted overwhelmingly yesterday to strike, rejecting a three-year contract proposal their leaders had deemed "insulting."
A Boeing spokesman said the strike vote meant the company would immediately stop assembling commercial airplanes, dealing a blow to the jet maker just as business at its commercial airplanes division appeared to be picking up. "We don't intend to assemble airplanes during this strike," said Charles Bickers, a spokesman for Chicago-based Boeing.
The strike will affect about 18,400 Machinists who assemble Boeing's commercial airplanes and some key components in the Seattle area, Gresham, Ore., and Wichita, Kan.
The union last went on strike in 1995, when workers walked out for 69 days.
Union leaders said their members voted 86 percent in favor of a strike beginning today. Under union rules, the contract would have been automatically ratified -- and workers would have stayed on the job -- unless two-thirds of the union members voted to strike.
Company officials had earlier said they feared a strike would send customers to competitors, notably rival Airbus SAS, and questioned whether the commercial operations could recover.
---
BACK TO TOP
|
[Hawaii Inc.]
PROMOTIONS
» Marriott's Ko Olina Beach Club has appointed
Donald B. Vinson
sales manager. He will be responsible for selling vacation ownership of two- and three-bedroom villas. He previously served as presidential sales executive.
» McNeil Wilson Communications Inc. has promoted Keith DeMello to corporate/public affairs division account supervisor. He will be responsible for overseeing a diverse range of clients. He has been with the company since 1999.
» Laird Christianson Advertising has promoted Manuela Boegeholz to senior account executive and Angela Neri to assistant account executive. Boegeholz joined the company in 2001. Neri joined in February and most recently served as an account coordinator.
» PacificBasin Communications has promoted Kathryn Drury Wagner to Honolulu Magazine managing editor. She previously served as associate editor.
» Shell Hospitality Inc. has promoted several employees. Nono Riggs has been appointed general manager of the Waikiki Marina Resort at the Ilikai. Mary Osborne has been appointed Shell Management Hawaii Inc.'s controller. Elizabeth "Tita" Kaolowi has been appointed assistant general manager of the Paniolo Greens at Waikoloa.
ON THE BOARD
» The International Council of Shopping Centers, Hawaii Chapter has appointed
Barbara Campbell
state director. She will be responsible for leading the local ICSC chapter in implementing educational and advocacy programs that benefit the retail and shopping center industry. She is an
Outrigger Enterprises Inc.
retail development and leasing vice president.
» The American Marketing Association Hawaii Chapter has announced new board members for the 2005-2006 term: Lee Collins, president; Christina Doane, president-elect; Bob Peterson, treasurer; Fidelia Mlaudzi, secretary; Kenneth Yeung, Internet chairman; Tim Deegan, membership chairman; Debbie Needham, programs chairwoman; Keith DeMello, public relations chairman; and Kevin Sakamoto, immediate past president.