[UH FOOTBALL]
---
Hawaii ready
to put it on the line
The Warriors offensive line
is focused and primed for another
chance against No. 1 USC
The offensive line was one of Hawaii's biggest worries when it took on USC on the road in 2003. The Warriors were young up front, and the Trojans' defensive front four was considered the best in the nation by many.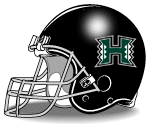 USC at Hawaii
What:
College football
Where:
Aloha Stadium
When:
Saturday, Sept. 3
Time:
1:05 p.m.
TV:
Live, ESPN2
Radio:
KKEA-1420
Internet:
sportsradio1420.com
Parking:
Lot gates open at 9:30 a.m. Parking is $5. Alternate parking at Ford Island ($5 including shuttle), Leeward Community College (free, $2 shuttle), Kam Drive-In ($5, fee shuttle). Shuttles are from 10:30 a.m. to 1:30 p.m. and approximately one hour after game ends. Parking also at Radford High School ($4, no shuttle). No tailgating at alternate parking sites.
Stadium gates:
Open at 10 a.m.
Stadium security:
No weapons, backpacks, handbags, coolers, umbrellas, megaphones or large purses allowed in the stadium.
Tickets:
A sellout is expected, but a few tickets remain and more will probably be available after Wednesday, when leftover student tickets are made available. Prices range from $3 for students to $35 for sideline. Available online at hawaiiathletics.com, by phone at 944-2697 between 9 a.m. and 5 p.m., or at the Stan Sheriff Center, Aloha Stadium, UH Campus Center, RainbowTique at Ward Center and Windward Community College's OCET office.
As it turned out, UH's 61-32 loss could not be blamed on the Hawaii offensive line. It helped that USC didn't blitz much, but Jeremy Inferrera, Samson Satele, Derek Fa'avi, Uriah Moenoa and Brandon Eaton did not allow a sack until midway through the third quarter and the game already out of hand.
That was of little consolation to Eaton, a sophomore playing in his first game as a starter.
"The memory I have is walking into that locker room crying because I just lost. That hurts, and I want to keep part of that feeling every day because I don't want it again," said Eaton, who spent part of his childhood in Los Angeles.
USC went on to the first of two consecutive championships.
The Warriors get another shot at the Trojans at Aloha Stadium on Saturday. Eaton knows USC is favored by nearly five touchdowns, but isn't letting it enter his thinking as he prepares for the first game of his senior season.
"Our key is coming in focused, ready to play," said Eaton, now UH's right guard. "We have to know no one can stop us, even the No. 1 team in the nation, NFL defense, no one."
Two other O-line starters from that 2003 game remain: Satele and Fa'avi. Satele is on the Outland Trophy watch list at left guard, and Fa'avi is a fourth-year starter and team captain at center.
Fa'avi recognizes the status of UH's offensive line compared to the rest of the team is the opposite of 2003; now his unit is the only veteran group while youngsters generally dominate the other positions.
"Pretty much the whole team is depending on us (for leadership)," Fa'avi said. "I hope our actions speak and our actions can transfer to the whole team. If we do good, hopefully the team will do good."
USC's defensive line is not as publicized as the "Wild Bunch II" of 2003. But Fa'avi said it looks just as good.
"Across the board they're all gifted and talented," Fa'avi said of tackles Sedrick Ellis and LaJuan Ramsey and ends Lawrence Jackson and Frostee Rucker. "They have a good group. But we just have to trust our technique."
Sophomore quarterback Colt Brennan, who is expected to split time with junior Tyler Graunke, said he's impressed by the front five of Tala Esera, Satele, Fa'avi, Eaton and Dane Uperesa.
"I've never seen an O-line like this. I've never been in practice with an O-line like the one we have here," said Brennan, who was a freshman at Colorado two years ago. "I've been around a lot of good O-linemen, but something about the way these guys move. It gives you confidence as a QB when you're in there.
"To beat them and get around to get me is gonna take a lot of work, no matter who you are. They're complete veterans and extremely talented and a good group of guys. They have the makings to be one of the great lines the Warriors have put out."
Eaton welcomes the challenge of setting the tone for the rest of the young team.
"All the weight is on us. That's how we feel, our starting five, we feel everything is on our shoulders right now," he said. "This is where it counts."
Ewa pride: Fa'avi never played Little League baseball, and he doesn't know any of the families of the international World Series champions from the Ewa Beach Little League team.
The Campbell High School graduate was born and raised in Ewa Beach, though, and he was beaming with pride yesterday.
"They not only represented Ewa Beach very well, but the entire state of Hawaii," said Fa'avi, who Sunday watched the 7-6 extra-inning championship victory against Curacao on TV. "They look like a great bunch of kids, doing their thing. That just shows the talent in Ewa Beach. There's a lot out there and the kids just need the opportunity."
Pigout profit: UH coach June Jones said the Warriors are well on their way to getting some up-to-date video equipment after last week's annual Pigskin Pigout fund-raiser at Murphy's Bar & Grill
"We raised $150,000, so we're hoping to get that by the time we get back from Michigan State," Jones said.
Short yardage: Jason Ferguson, Davone Bess and Ryan Grice-Mullen (recovering from his shoulder strain) took most of the reps at slotback yesterday. Nate Ilaoa is still in the mix, and Jones said he will play Saturday if his tender hamstring allows it. ... Reagan Mauia and Tony Akpan continued to share the reps at nose tackle. ... Cornerback Kenny Patton jogged, but was still limping yesterday and it's doubtful he will assume his starting position. Keao Monteilh continues to work with the first team. ... Small purses will be allowed at Aloha Stadium this season, representing a change from the beginning of last season, stadium spokesman Patrick Leonard said.