LEGISLATOR DIRECTORY
Searchable database


ELECTION 2004



CALENDARS
Happening around town



MOVIES
First-run film listings




PAST WEEK:





GENERAL
Phones, email, advertising



WHERE TO BUY IT
Stores and newsstands



SUBSCRIBE
Have the paper delivered



SUBSCRIBER FEEDBACK
Circulation contacts



HEADLINES BY EMAIL
Let Starbulletin.com come to you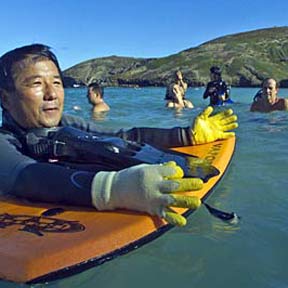 Alan Hong, manager of Hanauma Bay Nature Reserve, spoke about water safety yesterday with participants in an educational cruise to the Northwestern Hawaiian Islands aboard the research vessel Hi'ialakai. Star-Bulletin reporter Diana Leone will be filing dispatches from the voyage.
[ MORE INSIDE ]
| | |
| --- | --- |
| Partner site: | Featured on: |
Starbulletin.com publishes online editions Monday through Sunday. New editions normally posted online between 2:00 and 5:00 a.m. Starbulletin.com publishes articles written by our staff and selected articles of particular interest to our readers. Entire contents of this Web site © copyright 2005 Honolulu Star-Bulletin. All rights reserved.
Gas cap could boost prices
»Teachers at sea: Starting the journey
»Sides differ on burden of higher excise tax
»Kamehameha suit won't return to lower court
»Zipperlane extension brings tips for driving
»City's site for vanity car plates draws flak
»Offer divides Hokulia critics
»Survivor of heart attack cherishes life
»Kapahulu backs smaller Safeway
»Pacific Islanders lagging on income
»Makakilo gets 106 traffic safety signs
»Isles to see Army's Spearhead
»Accused murderer admits assault
»Asian American finally honored for WWII role

WeekEnd: Warren G is stayin' strong
»Krush rises again for 1-night club show
»Minutiae man
»EGH breaks 'fourth wall'
»Marine preservation film to screen

Jags' Owens bringing NFL down to size
»Offense, defense clash
»Wahine ready to run

Aloha Air turns $3.4M operating profit
»College faces more complaints
»Cyanotech's profit lifts
»Isle officials fight barriers to Chinese tourism

Death penalty not welcome in Hawaii
»Isles take pride in globe's top athlete
»Letters to the Editor



— ADVERTISEMENTS —

— ADVERTISEMENTS —