LEGISLATOR DIRECTORY
Searchable database


ELECTION 2004



CALENDARS
Happening around town



MOVIES
First-run film listings




PAST WEEK:





GENERAL
Phones, email, advertising



WHERE TO BUY IT
Stores and newsstands



SUBSCRIBE
Have the paper delivered



SUBSCRIBER FEEDBACK
Circulation contacts



HEADLINES BY EMAIL
Let Starbulletin.com come to you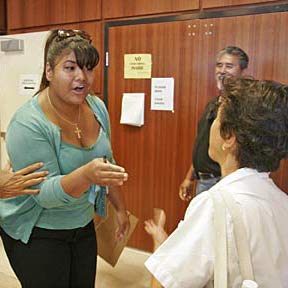 Tempers flared outside of the Kapolei Hale hearing room yesterday where Bill 40 was being voted on. Keren Paris, left, wanted rail, and the other woman felt it would not work.
[ MORE INSIDE ]
| | |
| --- | --- |
| Partner site: | Featured on: |
Starbulletin.com publishes online editions Monday through Sunday. New editions normally posted online between 2:00 and 5:00 a.m. Starbulletin.com publishes articles written by our staff and selected articles of particular interest to our readers. Entire contents of this Web site © copyright 2005 Honolulu Star-Bulletin. All rights reserved.
Transit project to raise taxes
»Vote comes 13 years after last bid
»School requests petition extension
»Mold stops the show at Kennedy Theatre
»Prescription runs out for pharmacy school
»Federal lawsuit postpones Superferry
»UH welcomes first collegiate PTA in U.S.
»2% test positive for 'ice' use
»Astronomy museum melds past, present
»Good show expected from meteor shower
»Man sues over wheelchair access
»Drunken driver avoids long term
»Kauai officials back anti-drug facility
»Student enrollment up at EWC
»Windward Ho'olaule'a seeks crafters, vendors
»Texas minorities are majority

Sisterly style

Clay wins world title
»High school leagues set D-I, D-II
»Backup QBs left standing around

A&B sells remaining stake in C&H
»Nut grower ekes gain from insurance

Changing standards worthwhile if students flourish
»Letters to the Editor



— ADVERTISEMENTS —

— ADVERTISEMENTS —