---
[ FAST FACTS HAWAII ]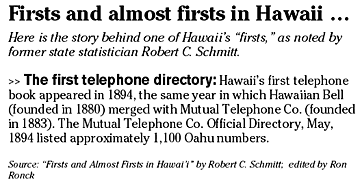 ---
BACK TO TOP


|


NATION
Employers worry less about unions
Time was, the prospect of union organizing could make a corporate manager quake. Apparently, they're not so scary these days.
Nearly half of human resource managers, 43 percent, said there is no concern about union activities at their companies, and a quarter described the level of concern as "low." Only 7 percent of the 557 human resource managers polled said there was a high level of concern.
The survey was conducted by Business & Legal Reports, a publisher of compliance information based in Old Saybrook, Conn. It was timed to coincide with the fractious AFL-CIO convention in Chicago last month, where several major dissident unions left the group in protest.
"Its hard to say whether these numbers reflect tough times for organized labor or simple preparedness on the part of today's HR professionals," said Kevin Flood, managing Web editor of the company's human resources site.
Tips to avoid the housing bust
You've heard for months the warnings of the bubble in real estate prices: house prices in some areas have risen so high, so fast, homeowners could be burned in a sudden correction.
What to do if you're about to buy a new home now? RealEstateJournal.com, an offshoot of Dow Jones & Co., offers a few tips:
» Don't borrow too much. If the bottom falls out, those who placed the smallest down payments stand to lose.
» Stay put. If you're buying a house now, plan to stay there for at least six years, the period most people typically own a house.
» Plan financially. If your mortgage payment is a monthly scramble, line up some funds for an emergency, be it from family borrowing, a home-equity line of credit or even selling and moving to a less-expensive house.
» Beware of ARMs. Be extra cautious choosing an adjustable rate mortgage. As short-term interest rates rise -- and the Federal Reserve has given numerous indications that they will likely do so for the balance of 2005 -- your monthly payments will increase just as the lower "introductory" rate will expire.
'Disability travel' a growth market
Americans' love of travel has spawned a variety of niche markets: gay and lesbian-themed markets, parents traveling with children, the elderly and singles. But a new survey suggests another area might be ripe for explosive growth: disability travel.
A study this year by the Open Doors Organization, a Chicago-based group that works to increase consumer opportunities for the disabled, and the Travel Industry Association of America, found that the average number of leisure trips taken by travelers with disabilities rose 50 percent since an earlier study in 2002.
Restaurant dining also has increased. The survey found that 71 percent of adults with disabilities dine out at least once a week, with a 6 percent boost in casual dining from 2002. In the new poll, 40 percent of adults with disabilities complained of the lack of room between tables.
The survey was conducted online and by telephone February 8-25, 2005, with 1,373 adults.