Isle idle teen rate
near worst in nation
A report based on Census data for 2003
shows more teens out of school and work
» Restructuring forces teachers to learn
The percentage of teenagers in Hawaii who are neither working nor in school is one of the highest in the country, having climbed 30 percent in three years, according to a report released today.
The 2005 KIDS COUNT Data Book said 13 percent of Hawaii teens ages 16 to 19 were idle in 2003, compared with 9 percent nationally. The data, based on U.S. Census Bureau survey figures, is the latest available. While the U.S. rate remained flat at 9 percent from 2000 to 2003, Hawaii's figure rose from 10 percent.
Marika Ripke, project director for Hawaii Kids Count, said it wasn't clear why the rate was climbing, but the state needs to face up to the problem.
"We must investigate the reasons why they are not in school and not working, and address any barriers to education and employment that these youth may be facing," she said.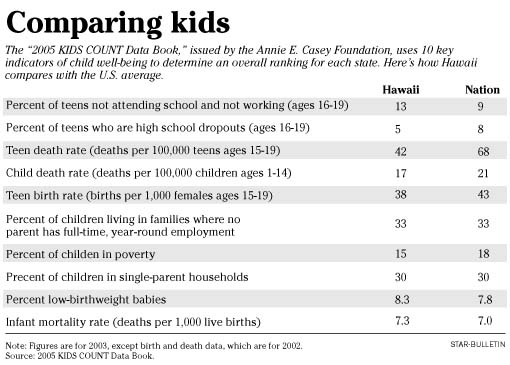 ---
The KIDS COUNT Data Book, prepared by the Annie E. Casey Foundation, ranks states on 10 different indicators of child well-being. Hawaii ranked 24th overall among the states, buoyed in part by low death rates among teens. Last year, Hawaii was ranked 20th in the nation in the survey.
The percentage of idle teens was Hawaii's worst indicator; only two other states had higher rates.
"A lot of our kids, when we start working with them, have really given up on themselves," said Sid Rosen, chief executive officer of Adult Friends for Youth, which educates and counsels high-risk teens in Hawaii. "They're struggling every day with emotional as well as physical survival."
"To give people hope that they can lead a productive and healthy life, you don't create it by magic," he said. "You need to work with people on a daily basis to help them believe in their capacity to achieve."
Paradoxically, the KIDS COUNT analysis showed that Hawaii had relatively few high school dropouts, again based on Census data. Five percent of Hawaii teens ages 16 to 19 were high school dropouts in 2003, the same figure as in 1996 and 2000. That compares with 8 percent nationally in 2003. Only three states had lower dropout rates than Hawaii.
On another indicator, Hawaii improved dramatically, reflecting the islands' healthy economy. The percentage of Hawaii children living in families where no parent held full-time, year-round employment dropped to 33 percent in 2003 from 41 percent in 2000, KIDS COUNT said. The national average was 33 percent in 2003.
Hawaii's teen death rate stayed well below the national average, at 42 deaths per 100,000 teens aged 15 to 19, compared with 68 per 100,000 nationally. Deaths among younger children are also lower than the national average.
Hawaii's teen birth rate continued to drop and remains below the national average, at 38 births per 1,000 females ages 15 to 19, down from 46 in 2000. That compares with 43 nationally, down from 48.
The full 2005 KIDS COUNT Data Book is due to be posted online today at www.kidscount.org.