Offshore quake
rattles Big Island
The moderate jolt from
Loihi volcano is also felt
around Oahu
Puna resident Petra Wiesenbauer was sitting in front of her computer yesterday morning when she heard rumbling sounds.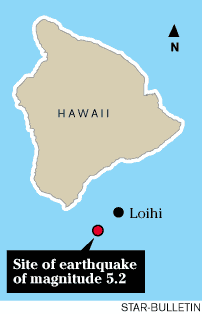 A 5.2-magnitude earthquake shook her windows and rattled the floorboards for about five seconds. Quakes might be a common occurrence in Puna, but the natural phenomena still startle her.
"It's kind of eerie," said Wiesenbauer, who owns and operates Hale Makamae Bed and Breakfast in Puna.
This is the second 5.2-magnitude undersea earthquake to occur off the Big Island in the last few days. The quake occurred at 9:15 a.m. yesterday and was centered about 15 miles west-southwest of Loihi, or about 20 miles south-southeast of Naalehu, at a depth of 18 miles, according to Jim Kauahikaua, scientist-in-charge at the U.S. Geological Survey's Hawaiian Volcano Observatory.
Three days ago a moderate 5.2-magnitude earthquake occurred about five miles below sea level and was centered about 30 miles north-northeast of Ookala. No damage was reported.
Yesterday's quake was also considered moderate, Kauahikaua said. There were no reports of damage.
Kauahikaua said the quake occurred under Loihi, the youngest volcano in the Hawaiian chain, located south of Kilauea. Many residents in most of the Big Island as well as parts of Oahu and Maui felt the quake.
Lanny Nakano, acting administrator for the Hawaii County Civil Defense, said he received about a dozen phone calls from residents in Waimea and Puna. "They did feel a large jolt. Some said it was a rolling effect," Nakano said.
On Oahu, police and fire received some calls. Several residents in Kailua, Salt Lake and Waialae Nui also reported that they felt the quake.
Pat Weaver, caretaker of an 8,500-square-foot home at Aha Maka Way along Waialae Nui Ridge, said, "It felt like someone was rocking the house."
Dispatchers at the Maui Police Department received many calls from residents of the quake.
Kauahikaua said the two earthquakes are the largest recorded quakes to occur in the Loihi area since a 4.9-magnitude quake occurred on Sept. 13, 2001, and the scores of quakes during a seismic swarm accompanying a possible Loihi eruption that occurred in July 1996.