"All the wireless companies have to figure out how to make money on a free model."
Nam Vu
Chief technology officer of ShakaNet Inc.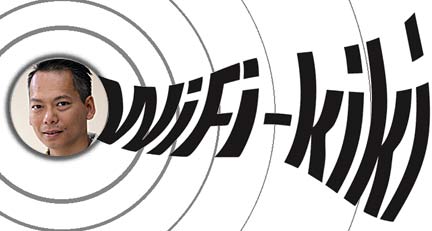 ShakaNet plans to blanket
the tourist area with free
wireless Internet
On a recent afternoon, Nam Vu, chief technology officer of ShakaNet Inc., stood on the balcony of Tiki's Grill and Bar and surveyed the scene.
To his left was Kapiolani Park and Diamond Head, to his right the hotel towers of Waikiki, before him Waikiki Beach and everywhere throngs of tourists and locals with swimsuits and surfboards.
By the end of the month, Vu said, ShakaNet will cover it all with a new free wireless Internet service.
"Really what we're talking about is some portion of the park to all the way down to that revolving restaurant (the Top of Waikiki) as the first phase," said Vu, whose firm provides paid wireless Internet access at Honolulu Airport and runs Internet kiosks at hotels and restaurants.
ShakaNet's move is nothing if not bold.
Civic leaders and technology executives have long struggled to fulfill the dream of a "wireless Waikiki," something promoters describe as increasingly important to the well-heeled, tech-savvy travelers that the Hawaii hospitality industry is targeting.
Known as wireless fidelity, or WiFi, the technology uses radio transmitters to send information to and from computers. Zones covered by the transmitters are called hotspots.
Executives have complained of a snarl of wireless services in Waikiki. In some cases, multiple providers have put several WiFi hotspots in the same place, creating interference for each other. Other locations have no hotspots at all.
Adding to concerns, Honolulu recently dropped 60 places, from 13 to 73, in a national survey of places with the most wireless Internet access. The authors attributed this to other destinations adding new hotspots more quickly than Honolulu.
Civic and political leaders are trying to bring order to the chaos, which Honolulu Chief Technology Officer Gordon Bruce refers to as "WWWW," or "the wild wild west of wireless."
In May, executives of the economic development group Enterprise Honolulu announced the formation of the Hawaii Wireless Council, which aims to foster alliances among private businesses that would provide seamless service for Waikiki.
And tomorrow, Bruce will hold a meeting with local technology executives to see how the government can help coordinate the development of an islandwide system while still encouraging healthy competition in an unregulated field.
Meanwhile, ShakaNet is jumping into the breach.
It's hardly an act of pure altruism.
At a time when free wireless service is mushrooming -- with free WiFi hotspots increasingly emanating from coffee shops, hotels, restaurants and homes -- ShakaNet's business model built on charging people for access isn't sustainable, Vu said.
"All the wireless companies have to figure out how to make money on a free model," he said.
To be sure, it is premature to herald ShakaNet as Waikiki's WiFi savior. The company has not rolled out its first phase, and there could be unforeseen technical problems. Plus, it remains to be seen whether ShakaNet's business model will work.
Regardless, business and civic leaders are pleased.
"There's no question that being able to provide wireless service for Waikiki will be a real plus," said Rick Egged, president of the Waikiki Improvement Association, which represents area businesses.
"I think it's excellent," Bruce said. "They're not the only player that's trying to do this, but they're the only ones trying to do this for free."
Paving the way
Among the other firms with designs on Waikiki is Honolulu-based
Skywave Broadband Inc.,
which also plans to roll out wireless Internet service covering the area, said Josh Beil, the company's vice president of business development and co-founder.
Beil said it was premature to discuss Skywave's plan in detail. But he said Skywave intends to use a hybrid business model, with elements of both ShakaNet's free service and the pay-to-play model used by companies such as T-Mobile USA Inc., which provides access to its WiFi hotspots for a fee.
Although Beil said he thinks a free-service model is not viable, he applauded ShakaNet.
"They're coming out with a bang with this different model," he said. "They're actually paving the way for many other companies."
Pat Bustamante, chief executive of Pacific LightNet Communications Inc. of Honolulu, echoed Beil. Bustamante, whose company has a wireless network on the Big Island and others in development on other islands, said it could be a challenge for ShakaNet to provide the bandwidth needed to support heavy traffic on a shoestring budget. But he commended ShakaNet's move.
"I'll use it when I'm down there," he said of the system in Waikiki.
Lucky break
Although it is a tiny firm with only four employees, ShakaNet is accustomed to ambitious moves.
Founded in 2002 by Vu and his wife, Meeta, who is ShakaNet's president, the company started by paying $10,000 to acquire two Internet kiosks, located at the Ohana Waikiki Village hotel and at the YMCA in Honolulu, from a financially distressed firm called AdCom.
A former dot-com executive who majored in computer science at the University of Houston, Vu quickly devised new software for the kiosks and established several more on Oahu.
The kiosks are the Internet equivalent of phone booths. Vacationers can swipe their credit cards or feed dollar bills into a vending-machine style slot, then check their e-mail and surf the net at a per-minute rate. ShakaNet shares a portion of the revenue with the property where the kiosk is located.
The kiosks hardly produced an immediate windfall, but ShakaNet soon got a big break.
In late 2002, Meeta learned that Honolulu Airport was requesting bids for WiFi service, which would be awarded under a master contract for travel services.
The Vus assumed they would be competing against bigger local players. But when airport officials held a meeting with potential bidders, no other WiFi providers showed up, she said.
"To WiFi a whole airport, that's a huge job," Meeta said. "And no one else was there.
"That's the luckiest break we've ever had," she said.
The deal gave ShakaNet instant credibility and access to a huge market. In addition to operating kiosks, ShakaNet covers the airport with a WiFi system that users with their own laptops can access for a fee. ShakaNet's fee ranges from $6.95 for a one-day subscription to $24.95 for one month's access.
The company now has more than 18,000 users per month at the airport, Nam Vu said. Because the airport is a controlled space with a captive customer base, ShakaNet believes it will be able to keep charging customers for access there, regardless of how widespread free service becomes elsewhere.
Over the next few years, ShakaNet continued to grow, expanding to run about 30 kiosks, primarily in hotels in Waikiki.
By late 2004, ShakaNet had made contact with Aston Hotels & Resorts, which operates a dozen hotels on Oahu. Aston wanted not just kiosks, but also free WiFi service in common areas, such as hotel lobbies.
For ShakaNet, this represented a double-edged sword. On one side was the prospect of working with a major hotel company; on the other, the notion of offering free service that would compete with ShakaNet's revenue-producing segments.
For the Vus, it was a harbinger of what they see as the future of WiFi and the need to find a way to make money without charging people for access.
"If we want to remain a wireless company," Meeta Vu said, "we have to figure that out."
$10,000 investment
For ShakaNet, the initial roll-out carries little financial risk, in part because Nam Vu said the company's fixed costs will not increase significantly.
WiFi transmitters, the devices that send information to and from computers, are linked to the Internet through DSL or cable lines, which ShakaNet pays for. Each line can support multiple transmitters.
ShakaNet already has transmitters throughout Waikiki and is paying for DSL and cable hook-ups supporting them, Nam Vu said.
He reckons ShakaNet can add many more transmitters, and thereby cover a much broader area, without having to pay for new lines.
Furthermore, Vu said, ShakaNet has customer support representatives on duty to answer calls from customers, and the costs for the call center also will not increase.
In fact, Vu estimates that the first phase, which will cover an area from the Kapiolani Park tennis courts to the Top of Waikiki restaurant, will cost only about $10,000. Covering the whole district in a second phase, he said, would cost about $250,000.
Vu sees several opportunities to produce revenue. ShakaNet can post ads for Waikiki businesses that users will see when they log on, for example. Plus, Vu said, after the network is established, it can be used to transmit securely all kinds of data over what Vu calls "parallel networks."
These, he said, can carry information remotely to and from devices such as traffic signals, security cameras or anything else that normally needs a wire, allowing people to control and monitor them remotely. ShakaNet, he believes, will be able to generate revenue by leasing these networks to users.
In the end, ShakaNet might have little choice.
From his perch at the Tiki Grill and Bar, Vu looked down onto Kalakaua Avenue and the tourist throngs. Pointing to a spot on the beach side of the avenue, Vu said the spot is covered by more than a dozen WiFi networks, including four or five free ones. It's that sort of thing, he said, that makes him believe paid WiFi service could be heading the way of the dinosaur.
"How can you compete against that?" he said, referring to the free services. "There is no business model that will make people use the (paid) ShakaNet service."