---
[ FAST FACTS HAWAII ]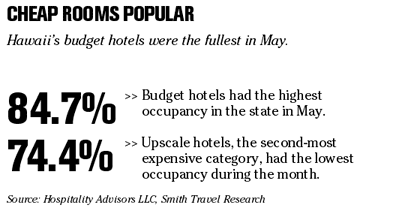 ---
BACK TO TOP


|


Japanese travel to rise, JTB survey shows
The number of Japanese traveling both domestically and abroad will probably rise 1.3 percent during the country's July-August peak travel season, helped by increased consumer confidence, according to a survey from
JTB Corp.
The number of overseas travelers will probably reach 2.5 million between July 15 and Aug. 31, up 0.4 percent from last year, Japan's biggest travel agency said. Domestic travelers with at least one overnight stay at their destination may rise 1.3 percent to 73.4 million, bringing the total number of travelers to 75.9 million.
More Japanese are planning domestic and international travel during this year's summer holiday period, as the nation's economic growth and higher salaries encourages them to spend more on travel. The 2005 Exposition being held in Aichi prefecture in central Japan also boosted demand for domestic travel, JTB said.
Total spending on travel during the period from mid-July to the end of August will probably rise 2.2 percent to $27.9 billion, JTB said.
Singapore prices recovering from slump
Singapore's homes are starting to attract foreign investors, according to researcher
Knight Frank Pte
, estimating that these buyers made up 25 percent of the market in the past two years from 10 percent five years ago.
The buyers, from markets such as Hong Kong and Malaysia, are purchasing houses in Singapore as prices recover from an eight- year slump. The government said last week prices of homes rose 0.4 percent in the second quarter from the previous three months, the fifth straight quarter-on-quarter gain. The city-state's two biggest developers both are selling more homes with the recovery in prices.
Merck seeks delay in trial over Vioxx
SAGAPONACK, N.Y. »
Merck & Co.
is asking a judge to delay the first wrongful death trial over its pain reliever Vioxx, saying the company cannot receive a fair trial if the Texas case begins next week as scheduled.
The company wants the trial postponed for at least 60 days, citing recent publicity about the drug.
Merck withdrew the drug in September when research showed patients who took the drug for 18 months or longer more than doubled their risk for heart attack and stroke. Since then, more than 2,400 Vioxx lawsuits have been filed nationwide.
A hearing on Merck's motion, which was filed Friday, is slated for today in Wharton, Texas. Mark Lanier, a Houston attorney for a woman suing New Jersey-based Merck over her husband's 2001 death, said he will oppose a delay.
In the motion, Merck said a lawsuit brought Thursday by Texas Attorney General Greg Abbott seeking $250 million in damages for Vioxx purchases has "effectively eliminated any possibility Merck can receive a fair trial beginning (Monday)."
Shareholders OK liquor merger
LONDON »
Allied Domecq PLC
shareholders voted yesterday to accept a $13 billion takeover proposal from French rival
Pernod Ricard SA
, paving the way for one of the world's biggest deals in the spirits sector.
Meeting in London, shareholders of Allied Domecq, the distributor of Beefeater gin and Stolichnaya vodka, voted 99.8 percent in favor of the plan that will launch the takeover. Their approval follows a vote by Pernod Ricard shareholders last week that gave the go-ahead to a plan to issue $2.4 billion in new shares to help finance the deal.
Allied Domecq Chairman Gerry Robinson told shareholders that recent difficulties in many markets highlighted the need for such consolidation.
"In these increasingly challenging market conditions, your board considers that the need for further consolidation in the distilled spirits industry has become increasingly apparent," he said.
Seiyu Ltd. shares leap on report
Shares of
Seiyu Ltd.
had their biggest gain in 15 months after a newspaper reported
Wal-Mart Stores Inc.
will raise its stake in the fourth-largest Japanese retailer to more than 50 percent and accelerate store renovation.
Bentonville, Ark.-based Wal-Mart will raise its stake from more than 42 percent in Seiyu, which will spend about $448 million to renovate 200 stores by the end of 2009, the Nihon Keizai newspaper reported.
Wal-Mart, the world's biggest retailer, has invested in the Tokyo-based company since taking a stake in May 2002. Seiyu lost money in its past two business years, facing bigger rivals including Aeon Co. in Japan's $125 billion-a-year supermarket business.
Sanyo to trim 15% of work force
Sanyo Electric Corp.
, which expects its third annual loss in four years, plans to cut 15 percent of its global work force and close a fifth of its factories in Japan as it tries to recover earnings.
Sanyo, the world's biggest maker of rechargeable batteries for consumer electronics, targets cutting $627 million of costs in three years, according to a statement released at a press briefing in Tokyo. The company had a record loss last business year, as falling consumer electronics prices eroded earnings and it needed to repair a chip factory damaged in an earthquake.
The Osaka-based company this year appointed a new management team comprised of Chief Executive Tomoyo Nonaka, a former journalist and outside director, and President Toshimasa Iue, grandson of Sanyo's founder, to help revive its share price, which has dropped 31 percent in the past year.