LEGISLATOR DIRECTORY
Searchable database


ELECTION 2004



CALENDARS
Happening around town



MOVIES
First-run film listings




PAST WEEK:





GENERAL
Phones, email, advertising



WHERE TO BUY IT
Stores and newsstands



SUBSCRIBE
Have the paper delivered



SUBSCRIBER FEEDBACK
Circulation contacts



HEADLINES BY EMAIL
Let Starbulletin.com come to you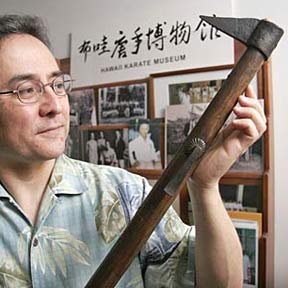 Charles Goodin, president of the Hikari Institute, holds up a "tobikuchi," or fireman's pick, which became a weapon in the hands of a karate practitioner. Goodin's Hawaii Karate Museum and the Japanese Cultural Center of Hawaii are putting on an exhibit to honor the pioneers of karate's 105-year history in Hawaii.
[ MORE INSIDE ]
| | |
| --- | --- |
| Partner site: | Featured on: |
Starbulletin.com publishes online editions Monday through Sunday. New editions normally posted online between 2:00 and 5:00 a.m. Starbulletin.com publishes articles written by our staff and selected articles of particular interest to our readers. Entire contents of this Web site © copyright 2005 Honolulu Star-Bulletin. All rights reserved.
Lingle signs land tax into law
»Karate's roots in Hawaii
»Officials to evaluate MAILE alert process
»GOP senator skewers Akaka Bill
»BOE member Shannon Ajifu dies
»Wailuku loses last family grocery
»Battalion has 27th Purple Heart
»Panel OKs new costs for police services
»Search ends for lost Big Island sailor
»Frisbee gets 20 years for 'ice'
»Grants available to help women, kids
»Minister Mildred Johnson Brostek dies

'Cinema Paradise' finds a new home in Chinatown
»Loss & Solitude
»Unity Crayons needs equipment
»D&B's new theater has intrigue
»Fill a plate for charity

Warriors to play Gators in 'The Swamp' in 2008
»No room for error
»Wie hanging with the ladies
»Passion was volleyball

Trust fund to save $25.7M
»Hawaii leads way to ruling on property seizure
»Activist says Turtle Bay security attacked him
»Industrial rent hits highest in 20 years

Stun gun restrictions reflect wise caution
»Ads in schools truly 'can of worms'
»Letters to the Editor



— ADVERTISEMENTS —

— ADVERTISEMENTS —