---
Happy cats
Even by kid standards, Genevieve A. Suzuki grew up with a hyperactive imagination, fueled by her only-child status and a crush on TV newsman Tom Brokaw. So while other kids stuck to well-worn stories of princes, princesses, frogs, dogs, cowboys and soldiers, Suzuki inhabited a world of pygmies and Paris penthouses.
"The Original Poi Cats
on O'ahu"
By Genevieve A. Suzuki, illustrated by Jon J. Murakami

Mutual Publishing, hardcover, 40 pages, $13.95

Also: "The Original Poi Cats on O'ahu Activity Book," $5.95
Book signings
Saturday: 11 a.m. to noon, Barnes & Noble; 12:30 to 1:30 p.m., Borders Express, Kahala Mall

July 1: 12:30 to 1:30 p.m., Bestsellers Downtown. Launch party, 6 to 8 p.m., Native Books, Ward Warehouse

July 2: 2 to 3 p.m., Borders Waikele

July 3: Noon to 1 p.m., Borders Ward Centre
Brokaw, who was on the "Today" show in the mornings, was a source of many a back story for Suzuki's inventions: "I'd hear him every day and he'd say funny words like 'Borneo,' and I would be, like, 'Oh, Borneo.'"
Such was the inspiration for her tall tales, such as heading to Bangkok and China in search of the golden dragon with emerald eyes.
"I grew up in an apartment building on Citron Street, and these old ladies would sit in the lobby, so they were like the baby sitters and I would go up to them and tell them stories against their will," Suzuki said. "I was about 5, and I told this one woman, Adele, 'I eat people, and what do you think about that? Are you scared of me now?'"
These days, Suzuki prefers to delight rather than scare people, and her mind travels have led to a children's book about -- what else -- traveling. "The Original Poi Cats on O'ahu" has the makings of a series that can transport children to major cities around the globe. The Poi Cats are destined to hit the neighbor islands next, then Japan. But for now, kids will explore Oahu through the experiences of two odd-couple felines, the elegant Minky and fun-loving Mew-Lani, and the cerebral mouse Machida-san, who adds to the book's educational mission, feeding young minds factoids about important sites around the island.
A companion activity book will keep kids occupied in the car, with puzzles, illustrations to color, mazes, word games and stickers.
Both books are colorfully illustrated by cartoonist Jon J. Murakami, whom Suzuki met while working for the Hawaii Herald in 2002. In addition to creating editorial cartoons, he's the lead designer for Maile Way Production's series of Local Kine greeting cards and is working on illustrations for more children's books. Suzuki worked in journalism for 10 years -- including at this paper -- before deciding to move on this summer to study intellectual property law at California Western School of Law.
---
---

THE WRITING OF "Poi Cats" involved many a meeting at Zippy's Waimalu, where Suzuki and Murakami ended up doing more talking than working. Actually, it's Suzuki who would talk at him.
"As an only child I talked to myself a lot, and I had an active social life with my dolls. I was a one-person freak show," she said. "I think now my teachers have rose-colored glasses because they say, 'Oh, I always knew you were a storyteller.' But back then I'd have to stay after school every day for talking, and after a while no one wanted to sleep by me in kindergarten because I was always talking."
But from Suzuki's tales about her cats, as well as pictures of them au naturel and in Sailor Moon outfits, Murakami came up with an image of Minky that resembles her real-life counterpart, and a chubby Mew-Lani, a thicker-set version of the real Miu, whose namesake is Italian designer Miuccia Prada.
Again, Suzuki's imagination starts spinning out of control. "One of my wishes is that kids will not only have fun with the book, but they'll start naming their cats after my cats so there'll be thousands of Minkys and thousands of Mius, but I'll take 'Mew' because not too many kids are fans of Prada."
EVENTUALLY, the duo's Zippy's sessions led to road trips in which they hit all the spots that made it into the book, such as Waikiki's Duke Kahanamoku statue, the Queen Liliuokalani statue at the state Capitol, and Dole Plantation.
"Jon wanted to take pictures of everything because he insisted on getting details. On the trip, Jon was like Minky and I was like Mew-Lani. I'd talk a lot and sometimes do voices. He's wacky, too, but he's more quiet about it."
By then he'd grown accustomed to Suzuki's strange ideas. Between writing and publication of the book, the two collaborated on the monthly "Living Gen X" online columns Suzuki writes for Roadrunner, including one in which she thought of milking cats for money in case she ever found herself out of work.
"Gen is Gen," Murakami said. "You never know where she's at or what's gonna come out of her mouth. That one really floored me, but cartoonists are definitely on a different wavelength from other people. For me, everything is a punch line, so we work well off each other."
Although the book is a natural for the tourist market, Suzuki turns serious when she says, "I hope lots of locals buy it, and I hope it motivates parents to take their kids out to the different parts of the island, because that's what my mom did.
"My mom's from Montana so she was the perpetual tourist, and once a month we'd go around the island. Those kinds of memories matter. There's nothing like buying Kahuku shrimp and taking it home that night so you and your mom can make scampi.
"And the more you know about the island, the more you'll support little island businesses, like the Kahuku shrimp guy, the people at the Matsumoto shave ice store and the people of Chinatown."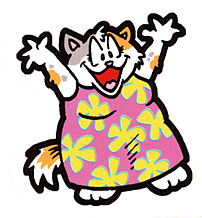 Murakami said he found the trips enlightening because it forced him out of the work world and into explorer mode.
"A lot of times we don't do 'touristy' things because we know it's always there, but when you actually do it, you find things that surprise you, like, 'Oh, I didn't know this beach was so nice.'"
Of course, success won't stop Suzuki's mind from wandering or her constant chattiness. These days, instead of talking to dolls, she talks to her cats when her husband, Derek, isn't around, complaining to them, "All you do is lie around. You better start thinking of ways to earn your keep. ... Now maybe they will ... maybe.
"So now Minky keeps lying on the book, and I tell her, 'Don't scratch the book,' but I'm afraid my cats are becoming two little divas. They're demanding rights. ... No, they don't have a clue. Their only worry is 'Are you going to feed me?'"