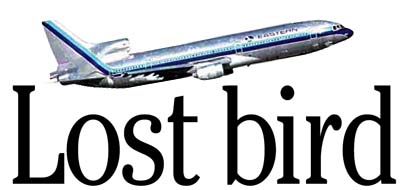 The "Lost" airplane made 28,822
flights before its "crash"
Las Vegas >> Doug Scroggins got a lump in his throat when he saw the "big bird's" tail unceremoniously severed.
"It was heart-wrenching the way they sliced through it," says Scroggins, remembering the day, a year ago last February. "She deserved a better ending."
Scroggins smiles.
"I still have that tail, though," he says. "And it didn't fall off in flight and into the ocean like they say on 'Lost.' It's sitting in my (business) yard in Mojave."
Scroggins' "bird" made its first flight 33 years ago last Sunday, with wings of aluminum, not feathers. The "bird" he's referring to is the Lockheed L-1011 -- its Delta Airlines tail numbers are N783DL -- used in ABC's hit series "Lost."
In the series' story line, the 385-passenger aircraft crashed on an uncharted South Pacific island. The fuselage, one wing and an engine were strewn across a Mokuleia beach, and the cockpit forward section in a Windward Oahu rain forest.
---
The plane, owned by Thompson's Aviation Warehouse, was stored in Scroggins' plane yard until he helped broker its sale to the network.
Scroggins is bit of a rare bird himself, an aviation archaeologist. He's the owner of Scroggins Aviation, an aircraft salvager, creator of the Lost Birds Aviation Museum in Henderson, Nev., producer of the "Scrapping Aircraft Giants" DVD and author of a book of the same name to be published this year.
More than a decade ago, Scroggins was an avid student of classic airplanes. After reading a news story about the crash of a private plane, he decided to visit the site. Fascinated by the scene but repulsed by the fresh smell of disaster, he subsequently focused his interest on old wrecks. Aiming ultimately to turn his hobby into a career, he put together a traveling air-show exhibit, launched a magazine called Lost Birds and also started work on a "Mishap Museum."
Scroggins Aviation has served as an airline and aviation consultant for TV and film productions, offering fabrication of aircraft parts and fuselage sections.
The company, based at California's Mojave Airport, specializes in dismantling Boeing 727, 737, 757, 767 and MD-80 series aircraft, a process that includes cleaning and tagging parts, conservation of reusable parts, parts sales and scrapping airframes.
Someone's got to do the job.
---
According to Scroggins, thousands of commercial airliners manufactured in the 1960s, '70s and '80s are being laid to rest by "crude and unceremonious means."
the "Lost" 440,000-pound L1011's first flight was June 12, 1972. By the time it stopped flying nearly 30 years later, the aircraft had made 28,822 landings and seen 58,841 hours of flying time.
Under the Eastern Airlines banner, the aircraft's original registration number was N308EA. Delta took over Eastern, and the aircraft was stored temporarily in Mojave in January 1991. Delta started using it again seven months later, with a new number, N783DL.
After seven more years of flying, N783DL was returned to Mojave, then moved in 1999 to nearby Victorville. It was purchased by Air Associates of Olathe, Kan., in June 2001, then by Diversified Aero Services of Miami in March 2002, before reaching Thompson's Aviation Warehouse in November 2002.
Planes that are to be retired are flown to storage facilities, often in the desert, where the climate and conditions allow them to be left inactive for long periods.
Thompson's Aviation bought N783DL for $50,000. ABC/Touchstone purchased it for about $200,000, not including shipping to Hawaii.
---
Scroggins told the network that the aircraft could be made ready to fly to Hawaii for dismantling on site, but ABC chose to start taking it apart at Scroggins' Mojave location beginning last February.
"I don't know what they paid to ship it, but they might have saved money flying it there first," he said.
It took 40 production workers five grueling days to "cannibalize" N783DL.
A bucket on the end of an excavator was replaced by a scissorlike device to slice through the fuselage and wings.
"There was a lot of shearing and screeching noises," Scroggins remembers.
Cold winter rains turned the clay soil into muck.
"The workers were slipping, sliding and sinking up to their ankles," Scroggins said. "Equipment was getting buried. It was awful but the clock was ticking. I got the feeling their deadline was close."
It was. Former ABC President Lloyd Braun didn't green-light the "Lost" pilot script until just after Valentine's Day, a month after the typical decision period. It was the last network show to get the go-ahead.
"Someone told me they had to have it out of the yard in five days," Scroggins said. "It was insane. From the moment they arrived, everything was last- minute.
"It seemed like they were undecided and had little planning of what they really needed to do. It was like, 'OK, let's cut it up then decide how to ship it.'"
The usual procedure of dismantling an aircraft involves "surgical preciseness," but this deconstruction crew "broke pieces off and ripped it off," Scroggins said.
"It was violent," he said. "They were in a big hurry."
To remove the tail section, a large crane was used to lift the nose in the air so the heavy end section would sit on the ground, making it easier to shear it off.
"It's a huge piece," Scroggins said. "They chewed at it for a long time, and it didn't give up easily."
Then the wings were cut off and the engines, each weighing 12,000 to 14,000 pounds, were removed.
The crew didn't gut the interior, except to remove seats, leaving the overhead bins and paneling intact.
The pot of gold for any aviation archaeologist is an airplane's data plate, showing its serial number and other vital information. It allows the plane and its story to be precisely documented and is one of the few pieces of debris wreck hunters actually collect.
Scroggins has his mementos of N783DL.
"I kept a chunk of aluminum which has the serial number," he said. "I also have the landing gear wheel's center cap where it's stamped 'Lockheed Tri-Star.'
"It's my way to say this bird is still part of me."