LEGISLATOR DIRECTORY
Searchable database


ELECTION 2004



CALENDARS
Happening around town



MOVIES
First-run film listings




PAST WEEK:





GENERAL
Phones, email, advertising



WHERE TO BUY IT
Stores and newsstands



SUBSCRIBE
Have the paper delivered



SUBSCRIBER FEEDBACK
Circulation contacts



HEADLINES BY EMAIL
Let Starbulletin.com come to you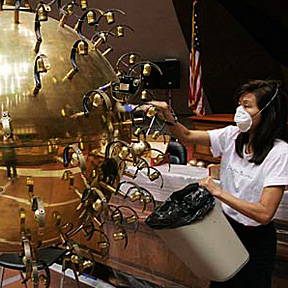 Fae Yamaguchi dusts the large light sculpture in the State House chamber. Its 132 gold-plated brass globes have been removed for repairs. The sculpture in the Senate chambers is also being repaired.
[ MORE INSIDE ]
| | |
| --- | --- |
| Partner site: | Featured on: |
Starbulletin.com publishes online editions Monday through Sunday. New editions normally posted online between 2:00 and 5:00 a.m. Starbulletin.com publishes articles written by our staff and selected articles of particular interest to our readers. Entire contents of this Web site © copyright 2005 Honolulu Star-Bulletin. All rights reserved.
Isle fraud fifth worst in nation
»New dawn nears for legislative chandelier
»Isle group to offer China tips on tourism
»'Murder by omission' possible in Peter Boy case
»Wrong-way car causes crash
»Return of the drive-in
»Group obtains journal on Iwo Jima battle
»'Meth mouth' rises
»Hospital ship ready for distant disasters
»Inouye says Felt guarded Constitution
»Workshop teaches coqui control
»Road work to close many lanes
»Asthma sports camps scheduled
»Landslide buries rare surf collection

Where are all the Fanilows?
»Dream-weaver taught youth theater to wing it
»Caretakers in 'Dolls' offer words on affection
»Eat your way through '50 Thrifty'

3 Days In... England of the South Pacific
»X Marks: Pacific Club for food, drinks and deals
»The Search for Hawaiian Life

Coming through loud and clear
»Few from Hawaii likely to go in this week's MLB draft
»HHSAA honors 4 local legends tonight
»Hula Bowl irons out details of move
»Key WAC proposals to be heard

Identity-theft insurance growing
»America West makes move on isle market
»Outrigger exec excited about Waikiki's future

Watergate reminds of need for unnamed sources
»Letters to the Editor



— ADVERTISEMENTS —

— ADVERTISEMENTS —