---
Cases of graffiti are on the rise, leading some
to say it's time Honolulu recognized ...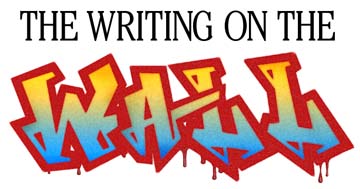 The costly problem spreads
to affluent Honolulu areas
» Waikele effort whites out graffiti
In a stream channel near Kahala Mall, Clarence Carvalho pushes his long-handled roller up and down against the wall, each stroke of his glistening gray paint wiping out a slice of a vibrant tapestry of graffiti.
One vandal after another has laid claim to this concrete canvas, their stylized names and symbols layered into a colorful kaleidoscope of one-upmanship.
"It's everywhere now," said Carvalho, the tanned, genial leader of the city's graffiti crew, fresh from another cleanup in Makakilo. "It's not in the housing (projects) only no more. It's in the rich neighborhoods, too."
The signs are all across the island. A traffic control box in Nuuanu with "420" scrawled across it in green paint -- a code name for marijuana. Bold letters sprayed on a bus stop in upscale Hawaii Kai. The infamous wall at the H-1 widening project in Pearl City, where graffiti vandals and cleanup crews have battled it out week after week, the results viewed by thousands of motorists daily.
A new tally of graffiti islandwide shows a near doubling of incidents reported to authorities in 2004 over the previous year, a total of 1,625, up from 867. The data was collected from various agencies by Sgt. David Primiano of the Juvenile Services Division of the Honolulu Police Department, who decided to research the issue after noticing that graffiti was spreading.
The sharp rise in incidents logged last year might partly reflect the spread of graffiti into new neighborhoods with a lower tolerance for such activity. Over the last several years, reported incidents islandwide rose gradually from 667 in 1999, with a spike to 1,014 in 2001, according to Primiano.
---
"One thing I can say with confidence, the incidents are definitely up," said Primiano, a 24-year police veteran who heads the Gang Resistance Education and Training detail. "The reality is out there. That's what prompted me to get involved in the first place. I'm saddened at the scope of the problem."
While graffiti is a trademark of ghetto life, nearly a quarter of the incidents reported last year were in Police District 7, which stretches from Manoa to Hawaii Kai and includes the richest neighborhoods on the island.
Officer Herb Schreiner of East Honolulu said graffiti is a priority for his district and that may boost the area's statistics. Police document and log cases for investigation, and make sure graffiti is cleaned up quickly.
"You have to attack graffiti by covering it up as fast as you can," he said. "It takes away the excitement of everybody seeing it. We call that the broken window effect. If it's there, it makes the neighborhood look bad. The faster you get in and clean it up, the less it attracts crime."
The public tends to associate graffiti with criminal youth gangs, and such gangs do use painted symbols and code names to claim turf or advertise their activities. But the bulk of graffiti is created instead by "taggers" who do it for fun and fame, either alone or in groups, according to police and others involved.
"These kids are not violent, and for the most part they're not drug users, they're just kids going through a phase," said Lt. Ben Ballesteros of the Pearl City Police Station, which made a string of graffiti arrests this month. "It's an identity thing. They want people to know that they're out there and they're alive. They want to be recognized."
Taggers are typically young males, in their teens and 20s, from all ethnic backgrounds, seeking status, thrills and a chance to express themselves and rebel, Primiano said.
The Internet may be fueling the fad. Some local taggers capture their otherwise fleeting "artwork" for posterity, posting photos of their latest images and inviting feedback from their peers on Web sites such as myspace.com.
Regina Huerter, president of Urban Peak and a consultant on gangs who came to Honolulu this month to address the Youth Gang Response System conference, said the majority of the graffiti she saw in Honolulu was "tagging graffiti" rather than the sort associated with violent gangs.
"The tagging world is not gang stuff," she said. "It's very narcissistic."
Interviews with more than a dozen young people involved with Adult Friends for Youth, a nonprofit that counsels and educates high-risk youth, suggest that graffiti is the thing to do these days.
Edyton Tumbaga, a clean-cut 15-year-old sporting a thick gold chain and snow-white sneakers, said he tried it himself a few months ago, taking off down a Waipahu back road with a friend to clandestinely spray black and silver paint on a canal wall.
"Me and my friend used to do 'em for fame," he said. "You make up a name for yourself, and when you see it on the street, they know that's your name. It's a talent thing -- who can make the best."
But the results disappointed him. "I wasn't used to it, the strokes," he said. "I was nervous, too," he added. "I might get chased by the police."
Jayson Calaro, 21, said he and his buddies used to "tag" when they were teenagers.
"We were just representing who's better," he said. "We'd use the name of our group, the guys we grew up with. Then the other guys would tag over us. Some guys would do it fancy. And some of us -- no more talent," he added with a laugh.
But the toll that graffiti is taking on the community is no joke.
Primiano pegged the statewide cost of cleaning up graffiti at $1 million a year. Simply painting over it isn't always an option. Expensive highway signs may have to be replaced when vandalized because they must meet government standards for reflectivity.
"And it's not just the cost," said Scott Ishikawa, spokesman for the state Department of Transportation. "It takes away manpower from other duties like pothole patrol."
The spread of graffiti can also demoralize communities. Waikele Community Association General Manager Malcolm Ching and volunteers sprang into action a few months ago after one homeowner complained that graffiti was beginning to make the neighborhood look like "a slum." After a couple of frustrating months, they appear to be winning the battle for their community, which is now virtually graffiti-free.
Police are also taking action. Fed up with the constant tagging of the H-1 wall, Pearl City officers staked out the site this month. At 1:35 a.m. on May 4 they nabbed two 17-year-olds and one 16-year-old spray painting, arresting them on charges of criminal property damage. By tracing their graffiti monikers and following leads, police were able to close out 16 graffiti cases and make several other arrests, Ballesteros said.
"It started off as a very small project, and it's mushroomed," he said. "We opened a can of worms. This is only one tagging crew, and there are many, many tagging crews out there, and some guys not even affiliated."
In another high-profile case, a 17-year-old from East Honolulu and an 18-year-old from Salt Lake were arrested last month in connection with defacing the science center under construction at Bishop Museum.
The penalties for graffiti range from 30 days in jail and a $1,000 fine for criminal property damage of less than $500 to as much as 10 years in jail and a $20,000 fine for damage exceeding $20,000. Parents and guardians can be held liable for fines. City law also prohibits juveniles from buying or possessing graffiti "implements" such as spray paint without adult supervision.
"Parents need to know that this is a problem and they can help minimize it, educate their own kids, and don't depend on the schools, or police," Primiano said.
Whether the rise in graffiti might also reflect an uptick in gang activity is not clear. In a January 2005 "Gangs in Hawaii" report to the state Legislature, Meda Chesney-Lind and her co-researchers at the University of Hawaii at Manoa concluded that there is "no credible quantitative measure of the extent of the gang problem."
Funding for a database used by police to track gang members has lapsed, and Hawaii police are now looking into adding gang data to the Western States Information Network, which is used for narcotics intelligence.
"The best measures that we used to have we don't have any more," Chesney-Lind said Friday. "But I don't think people should be too complacent about the gang problem, especially as we have seen some violent incidents moving out of the traditional neighborhoods, and going after not just gang members."
At Kalihi Valley Homes, resident Ruta Afuola said she is concerned about a rise in graffiti there, mostly youngsters claiming turf, but which also includes the numbers "187," a code for murder.
"The graffiti is all around the buildings, benches, even the district park," she said. "We're trying to see what we can do to make it better."



Graffiti hotlines

Call 911 to report a "crime in progress" if you witness a graffiti vandal in action. For other graffiti, call these numbers, depending on its location:

>> State highways: 831-6714

>> Bus stops, benches, shelters: 848-4500

>> Traffic control boxes: 484-7639

>> Hawaiian Electric transformer boxes: 543-7370

>> City and County of Honolulu graffiti hotline: 527-5180

>> Honolulu Police Department graffiti hotline: 529-3222

Owners are responsible for cleaning up graffiti on private property.



---
BACK TO TOP
|
Waikele's joint effort
whites out graffiti
The community bands together, including
a fast-response team, to control the problem
Here's how one community -- Waikele -- successfully tackled an epidemic of graffiti.
"We were getting tagged with graffiti, just like the rest of the state," said Malcolm Ching, general manager of the Waikele Community Association. "It was on our walls, our property, our fences, electrical boxes, sidewalks, bridges. They were tagging everything in Waikele."
"At first we were just hiring contract painters to paint over the areas, but they get expensive after a while," he said last week. "And we couldn't even keep up."
So the neighborhood organized its first volunteer paint-out day on March 5, with plans to repeat it quarterly. Some of the money that would have gone into hiring workers went instead into T-shirts and incentives for volunteers to make the job fun.
Everyone was jazzed for a while -- until the vandals struck right back, taking advantage of the brand-new canvasses created in the cleanup.
"In the old days, you could paint over an area and it would deter them," Ching said. "But this is a whole new generation. They tag right over it the next day, sometimes within hours. It was very frustrating for our residents."
So Waikele formed a fast-response graffiti team that it dubs TAAG, for Taking Action Against Graffiti. Each of the 15 or so members keeps paint and other supplies handy and they communicate via e-mail, tipping each other off to fresh graffiti.
"When they see it, they just go get it," Ching said. "One lady goes out at 4:30 in the morning and paints the bridge." She used to do it after work, but that gave the taggers the satisfaction of a daylong display of their nocturnal activity. So she started heading out before dawn, he said.
The result?
"They got frustrated and they don't paint the bridge anymore," Ching said. "The latest thing is that Waikele has been graffiti-free for the last two weeks. They figure it's a waste of time and material."
"The credit goes to the residents, taking a stand and saying we don't want this in our community," he added. "We've really got to get the word out that people need to band together and take back their community."
Ching said the residents worked with the support of the police and local businesses. Major Randy Macadangdang, commander of the police district that includes Waikele, praised the community's effort.
"It's important that we have partnerships with the community," he said. "The police can't do it alone. It's a shared responsibility that we have."