---
[ FAST FACTS HAWAII ]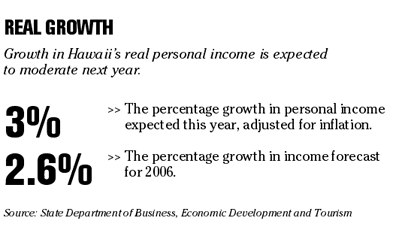 ---
BACK TO TOP


|


Island Air to lease 74-seat planes
Interisland carrier
Island Air
said it has signed a letter of intent to lease two 74-seat turboprop aircraft from Bombardier Aerospace, with the first plane to be delivered in November.
The Q400 planes offer double the seating of the 37-seat turboprops that Island Air has historically used. Island Air also has an option on a third plane and the company hopes to have all three aircraft operating by summer 2006.
The move comes as a prospective start-up interisland carrier, FlyHawaii Airlines, plans to initiate flights early next year using 68-seat aircraft, entering a market served by Island Air, Aloha Airlines, Hawaiian Airlines and commuter carrier Pacific Wings.
Maui office vacancy falls again



CORRECTION

Saturday, May 28, 2005



» Commercial real estate firm Colliers Monroe Friedlander issued a report Thursday detailing market conditions on Maui. A brief on Page C1 in yesterday's morning edition incorrectly attributed the report to CB Richard Ellis.



---




The Honolulu Star-Bulletin strives to make its news report fair and accurate. If you have a question or comment about news coverage, call Editor Frank Bridgewater at 529-4791 or email him at

corrections@starbulletin.com

.
Maui office vacancy rates dropped for the fourth straight year in 2004 to 9.25 percent, the lowest level in more than 15 years, according to commercial real estate firm
CB Richard Ellis
.
As a result, the average asking office rent rose for the fifth straight year last year, for a cumulative increase of 26 percent since 2000.
Also, Maui's retail vacancy rate has hit its lowest level in more than a decade, 5.4 percent, while asking retail rent rose 4 percent from a year earlier.
Suntrips plans to expand service
Vacation wholesaler
Suntrips
plans to expand its contracted airline service between Hawaii and Northern California to 11 flights a week because of strong demand.
Suntrips, based in San Jose, Calif., said it is looking to strengthen its business, which is currently seasonal.
Costco's profit rises on electronics sales
Costco Wholesale Corp.
, the largest U.S. warehouse-club retailer, said third-quarter earnings increased 6 percent as sales of home furnishings and electronics helped make up for a decline in gasoline profit.
Net income rose to $209.8 million, or 43 cents a share, from $198.7 million, or 42 cents, a year earlier. Sales for the quarter ended May 8 rose 10 percent to $11.7 billion, the Issaquah, Wash.-based company said yesterday.
Sales of upscale products, such as $2,250 Denton leather sofas, helped Costco outperform Wal-Mart Stores Inc.'s Sam's Club for 20 straight months. Profit margin narrowed because Costco discounted gasoline to lure customers into stores while its wholesale fuel costs rose. The retailer stands to benefit if gasoline prices remain below their record high in April.
---
BACK TO TOP
|
[Hawaii Inc.]
PROMOTIONS
» Kuakini Health System has recently promoted several managers and new hires:
Quin Ogawa
has been appointed vice president and chief financial officer. He will be responsible for managing all of the company's fiscal services.
June Drumeller
has been promoted to clinical services vice president. He has over 28 years of nursing experience.
Donna Primiano-Holton
has been promoted to inpatient nursing services managing director. She will be responsible for overseeing the nursing staff, critical care, medical and surgical patient care units.
Jo Ann Higa
has been promoted to revenue management manager. She will be responsible for preparation and filing of annual cost reports.
John Miner Jr.
has been hired as purchasing department manager. He most recently served as Hawaii Pacific Health's admissions/financial services director.
» James M. Sterrett, CPA has promoted Fiona Leung to vice president from assistant vice president. She joined the firm in 1999 as a senior accountant.
» TS Restaurants has promoted Chris Colgate to Oahu regional manager. He will be responsible for overseeing the marketing, public relations, financial management, capital improvements and service standards at Duke's Waikiki and Hula Grill Waikiki. He previously served as general manager for both restaurants.