LEGISLATOR DIRECTORY
Searchable database


ELECTION 2004



CALENDARS
Happening around town



MOVIES
First-run film listings




PAST WEEK:





GENERAL
Phones, email, advertising



WHERE TO BUY IT
Stores and newsstands



SUBSCRIBE
Have the paper delivered



SUBSCRIBER FEEDBACK
Circulation contacts



HEADLINES BY EMAIL
Let Starbulletin.com come to you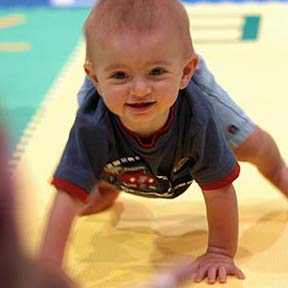 1-year-old Landin Langridge was up on all fours going to his mom, Bridget, during the "Baby Crawling Contest" at the 8th Annual New Baby Expo 2005 at Blaisdell Exhibition Hall. Landin finished second in his heat.
[ MORE INSIDE ]
---
| | |
| --- | --- |
| Partner site: | Featured on: |
Starbulletin.com publishes online editions Monday through Sunday. New editions normally posted online between 2:00 and 5:00 a.m. Starbulletin.com publishes articles written by our staff and selected articles of particular interest to our readers. Entire contents of this Web site © copyright 2005 Honolulu Star-Bulletin. All rights reserved.
— ADVERTISEMENT —

Pentagon gives UH research a boost
»Schools struggle not to be left behind
»Providers vow to hone curricula
»Union pickets at Turtle Bay hotel
»13-year-old suspect 'fit right in'
»Measures promote organ donations
»Nursing shortage hits at worst time
»Base-closure ax fells 278 at Pearl
»Experts told addiction has no bounds
» Parker Ranch Trust grants $7.8M to Waimea
»Kauai man convicted in firearm case

Family Tree: Home on the lanes
»Gallery: Island reflections
»D&Q: Genre mix makes for hip samurai tale
»Int'l poker champion shares his secrets

The Search for Hawaiian Life
»Travel smart for an enjoyable trip

Buffanblu repeat, defeating Kailua
»Rainbows feeling robbed by Owls
»Brewer tops Guillermo in 125-lb final
»Pate joins premier pitchers
»Waiakea third for second straight year
»Jamboree unites girls hoopsters
»Pearl City sweeps state judo championships

Breaking away from budget
»Inside Hawaii Inc.

NW Isles should be 'Yellowstone of Oceans'
»Why let just anybody coach students?
»Revoking filibusters muzzles precious right to debate
»Letters to the Editor



— ADVERTISEMENTS —

— ADVERTISEMENTS —