RECYCLE
---
---
Waiting Game
The state's ambitious HI-5 recycling
project is a hassle for Hawaii
residents who participate
Kimo Rogers tried three days in a row to get cash for his empties at Hawaii Kai's only full-time redemption center for HI-5- labeled beverage containers.
On his first two tries, the line at the Reynolds Recycling center at the Hawaii Kai Park and Ride lot was long and slow-moving. So Rogers left.
Money collected
The state has collected $18.9 million from beverage purchases in the form of deposits (5 cents each) and fees (1 cent each), from July to March. It refunded $3.6 million to consumers from January to April.

The following is a breakdown of the money collected:
| | |
| --- | --- |
| 2004* | $7.1M |
| January | $3.7M |
| February | $3.8M |
| March | $4.3M |
*From July through October, the state only collected a half-cent handling fee.
SOURCE: STATE DEPARTMENT OF HEALTH
Finally, on Thursday, he was first in line for the 9 a.m. opening.
But the buyer was late opening, and it wasn't until 9:40 a.m. that Rogers traded his bottles and cans for $19.
"The problem is, it's not convenient," Rogers said. He insists he'll continue recycling because "I want to teach my kids this is the right thing to do."
But he believes that for many people, "if it's not convenient, they're not going to do it."
Lack of convenience is the single biggest complaint about Hawaii's "Bottle Bill" program, agreed Larry Lau, the state Department of Health's deputy director for environmental health.
Regular customers of Oahu redemption centers say it's not unusual to stand in line 30 to 45 minutes to trade empties for cash.
"You make less than minimum wage," quipped one man.
Sometimes the centers run out of money. Sometimes they close early because they've filled a trailer with recyclables and a replacement trailer can't get there. Sometimes they're not open a full day, for the same reason.
From January to April, state-certified redemption centers have collected almost 98 million bottles and cans. That represents about 37 percent of the beverage containers sold during that time.
Ultimately, the state hopes that 80 percent or more of the containers will be redeemed, keeping litter off the streets and reducing the trash going into landfills.
That goal looks a ways off for many customers at Oahu redemption centers recently. Despite their frustration, many say they'll keep coming back.
Others say it's not worth the hassle.
---
---
On the morning of April 30, the Star-Bulletin found that Reynolds redemption centers in both Mililani and Mililani Mauka were closed because of full trailers. One location had a sign explaining the situation. The other did not.
That same day at Wahiawa's California Avenue site, business was booming, in part because the Haleiwa site also was closed due to a full trailer. When the site ran out of money, one worker went for more cash while those remaining continued to weigh and count containers for people in line. The temporary money shortage was solved in about 15 minutes.
Terry Telfer, president of Reynolds Recycling, oversees the largest number of redemption centers in the state. He knows there are complaints about sites closing when trailers are full or they run out of money.
He says his company is taking the following steps to improve service:
» Add two tractor trucks and drivers to its fleet that collects full trailers from redemption sites.
» Send truck drivers out earlier in the morning, before redemption sites open.
» Extend hours at its main operation center in Halawa.
» Add a second processing site on Sand Island in September, which would handle trailers from the South Shore and Honolulu. The Halawa yard would then serve Leeward, Central and North Shore centers.
» Increase the capacity of each trailer by using larger plastic containers to store recyclables, instead of cardboard boxes.
Telfer said he already has authorized redemption center workers to write checks to customers if they run out of cash.
Another thing that would help, Telfer said, would be if more redemption centers opened.
"There's more than enough business for all of us," he said.
Financial incentives being drafted by the Health Department will help retailers and others pay for setting up more redemption centers, Lau said. Rebates and grants will be paid for with money already collected from deposits on containers.
"If you're frustrated, go to your (grocery) store manager" and ask for a redemption center, said Bottle Bill author Rep. Mina Morita (D, Kauai).
---
Teamsters seek to unionize
Reynolds workers
Local 996 of the Teamsters Union is seeking to unionize workers at Reynolds Recycling, the company with the most redemption centers under Hawaii's beverage container redemption program.

The Teamsters have filed a petition with the National Labor Relations Board and hope to have Reynolds workers vote soon on whether to join the union, Teamsters Local 996 President Mel Kahele said.

According to Kahele, 60 Reynolds employees are eligible to be represented by his union. But the company has protested that, postponing a union vote.

Reynolds President Terry Telfer said he did not want to comment on the Teamsters' attempts to organize his workers, calling it a "private matter."
---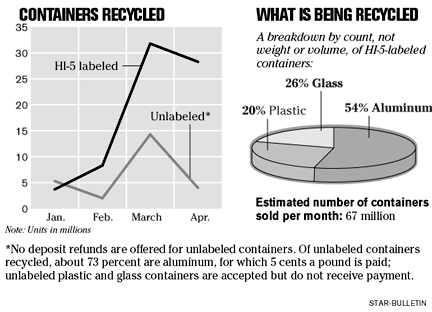 ---
Recycling Tips
Repeat customers to Oahu's beverage container redemption sites say:

» Divide containers by type: plastic, aluminum and glass.
» Count containers at home; unless your count doesn't look accurate, the buyer will take your word for it.
» Don't bother bringing in a mere handful; the wait in line won't be worth the few dollars.

Heard that crushing cans is OK?
It's not -- yet. The Legislature passed House Bill 1015, which will allow crushing of aluminum cans or plastic bottles before redemption. If Gov. Linda Lingle either signs the bill or lets it become law without her signature, the Health Department will announce the change.

Looking for a redemption center?
Visit www.hawaii.gov/health.

Want to run a redemption center?
Visit www.hawaii.gov/health or call 586-4226 for information about proposed financial incentives for retailers and others to establish redemption centers. Senate Bill 212, if Lingle allows it to become law, will offer rebates for retail stores that install reverse vending machines and financial assistance for new redemption centers. Even if that bill does not pass, the Health Department plans to offer incentives for more redemption centers.

Got complaints?
Call the state Department of Health's Solid and Hazardous Waste Branch at 586-4226.

Want recycling bins?
Contact Honolulu's recycling division at 692-5410 or visit its Web site at www.opala.org.

Need more information about Charitable Ventures?
Contact the company at 841-4800 or visit its Web site at www.wecanhawaii.com.

Want recycling pickup?
The National Kidney Foundation of Hawaii will pick up beverage containers labeled HI-5, recycle them and keep the refunds as a donation. To arrange pickup, call 596-7575.

Remember those white bins?
The large white recycling bins at dozens of Oahu schools and shopping centers still accept beverage containers, if you don't care about getting your deposit back. Money raised from the bins goes to the adjacent school. For locations, see www.opala.org.
---
BACK TO TOP
|
Deposits benefit
nonprofits
A new program helps charities earn
funds from business donors
Millions more deposit dollars have been collected under Hawaii's new bottle bill than have been returned to consumers.
While some complain about the hassle of the state's beverage container redemption program, nonprofit groups have started to mine the 5-cent value of the empties.
A company has even been formed to link nonprofits that need to raise money with businesses willing to donate their deposit refunds to a worthy cause, if someone else will handle the work.
Since March, Charitable Ventures Inc. has provided that go-between service on a fee basis worked out with the nonprofits, said founder Jill Tokuda.
A nonprofit agency lines up business donors, such as bars or restaurants. CVI workers pick up empties from the participating business, take them to a redemption center and split the money with the nonprofit.
"CVI is a formula in which everyone wins," Tokuda said. "This program offers a solution which is good for the environment, makes it convenient for businesses and residents to recycle and gives them the satisfaction of helping local charities with the proceeds redeemed from the deposit of each container. CVI really helps our partner organizations and Oahu residents to turn trash into treasure."
After six weeks in operation, CVI has 25-30 businesses participating and serves 25 nonprofit agencies, Tokuda said.
Another source of help for fund raising with beverage containers is the city. It will allow condominiums, schools and nonprofit organizations to use its 96-gallon blue recycling bins. The 6,000 bins are being reused after use in the Mililani curbside recycling pilot project.
When the city starts curbside recycling islandwide this summer, it plans to use smaller, 64-gallon bins.
So far, 19 nonprofit organizations, 29 condominiums and 45 schools have requested bins, said Suzanne Jones, the city's recycling coordinator.