---
Modern war stories
sought for government
anthology
"What did you do in the war, Daddy?"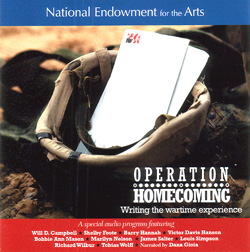 The glory and horror of war have inspired storytellers and historians from the earliest tales of semi-legendary Bronze Age heroes to minutely researched unit histories that track the flights of individual aircraft in backwater areas during World War II.
The question -- "What did you do?" -- is no longer gender-specific for Americans. Women now fight and die alongside men in our armed forces, but our curiosity remains. What did our fathers or grandfathers experience in fighting the People's Liberation Army in the mountains of Korea, the hardened regulars of the North Vietnamese army in the jungles of South Vietnam or the shadowy forces of Somali warlords in the hostile streets of Mogadishu? What was it like to do battle against columns of Iraqi soldiers in Kuwait?
Many veterans have written about their experiences over the centuries, some as sincere historians, others as propagandists for one cause or another. Still others have created works of fiction, from "All Quiet on the Western Front" to "Tales of the South Pacific."
The National Endowment for the Arts is casting a wider net with "Operation Homecoming: Writing on the Wartime Experience," a program to document and preserve wartime experiences of American military personnel and their families since the 9/11 attacks.
The NEA is conducting writing workshops on military bases across the country and throughout the far-flung network of bases abroad, to help encourage these men and women to set their thoughts to paper.
A free "Operation Homecoming" audio CD is available to military personnel interested in the general topic of wartime literature. The CD contains examples of war letters, poems, fiction and memoirs American wars from the Civil War through Vietnam.
Another part of "Operation Homecoming" is an open call for essays, letters and other writing by military personnel, reservists, National Guard members and Coalition Authority members who served after the 9/11 attacks.
All submissions will be preserved in "an appropriate federal archive," but those judged most significant will be published in an "Operation Homecoming" anthology to be distributed free to military installations, schools and libraries.
And, because combat deployments effect spouses and children, too, the call goes out to immediate family members as well. Participation in an "Operation Homecoming" workshop isn't a prerequisite. Deadline for submissions is May 31.
Although the possibility of being published introduces an element of competition, the underlying goal is to encourage military personnel to write for whatever purpose moves them.
Lt. Cmdr. Ben Snell, for example, had already been working on his memoirs when he joined several dozen participants at an NEA writing workshop at Pearl Harbor last month.
A participant in both Operation Enduring Freedom and Operation Iraqi Freedom, Snell thought that time spent with two published authors would help sharpen his skills. "This is a really good forum to see how they think," he said.
What is he writing about? "My experiences, my thoughts, all the things that I've done as an E-1 up to a lieutenant commander in the last 23 years. How we played in the Cold War. ... I'm just working on piecing together parts of my thoughts (and) my experiences and how I played in this. It's more just getting my career on paper."
Snell was "avoiding college" when he enlisted in 1981, but he made use of the educational opportunities that came with military service to earn a college degree and a commission, then go to graduate school. Now he wants to share those experiences -- for himself and his young sons.
"It's my views on some of the things that are going on today that they may read about later. ... That's the catalyst for me, so that they can read it some day."
Navy man Justin Villager, recently returned from Iraq, was writing for "me and my family."
"Our (commanding officer) asked us to write a one-page report on our experience there ... it turned into a five-page report and really pulled out a lot of memories."
Navy wife Diane McCarty attended the session to learn more about writing an account of her experiences running a household while her husband was at sea. Air Force Tech. Sgt. Bret Grantham saw the workshop primarily as an opportunity to improve his communication skills at work.
"Writing is one of the most important communication skills we have, and the better you write, the better you communicate. Sloppy writing or using words that can be interpreted several different ways can totally change the meaning of the point that you're trying to get across or the information that you're trying to present."
Grantham added that he had been writing "short stories and things like that" since high school, but at the moment didn't expect to write for a public audience.
Stephen Lang, one of the two workshop leaders, didn't have a problem with that. "The written word still remains the most vital basic form of communicating our thoughts and our feelings and our opinions to other people," he said.
Lang, an actor and playwright, helped lead the workshop while in Hawaii to present his one-man show, "Beyond Glory," at the Hawaii Theatre. The performance examines the experiences of seven Medal of Honor recipients, including Hawaii's U.S. Sen. Daniel Inouye.
Working with Lang was Richard Currey, a combat medic in Vietnam who has written critically acclaimed novels about the Vietnam experience.
Currey offered inspiration for writers and would-be writers who want to share their thoughts on the post-9/11 world. "The folks that are here have vital stories, and what they need is not a story -- they've lived it. What they need is the shaping and the sense that it's OK to move forward, that it matters, that we need those stories."
The first step, Currey said, is to become comfortable with putting words to the page. "Then figure out where you're going to go with them, how you can push your story forward and find a way to tell it that will work."
---