---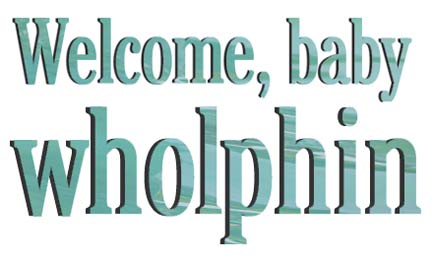 A new generation of
the whale-dolphin hybrid
is born at Sea Life Park
The first, and presumably only, cross between an Atlantic bottlenose dolphin and a false killer whale was born 19 years ago at Sea Life Park -- the "wholphin" Kekaimalu.
"It was really big news, especially to those of us in the business," Sea Life Park General Manager Renato Lenzi said yesterday, because bottlenose dolphins and false killer whales had been considered so dissimilar that no one had expected them to mate.
Yesterday, operators revealed that Kekaimalu has topped that: She had a baby wholphin on Dec. 23.
Now Lenzi, who came to Sea Life Park with its new owner Dolphin Discovery in January, will oversee the next generation of wholphins.
"We are extremely excited about the birth of the baby wholphin," Lenzi said.
Instead of even letting the world know the new wholphin existed, "we focused on giving her the best care possible," Lenzi said, because the first few months of a captive marine mammal's life are critical. The result, he said, is "she's a strong animal."
"From a scientific viewpoint, it's interesting for us to observe the anatomical and behavioral development of this baby and how much she has inherited from the two different species that she carries in her genes," Lenzi said.
The very fact that the two species of marine mammals did have a hybrid offspring, Kekaimalu, stirred up scientific discussions, Lenzi recalled. It also has made Kekaimalu a research subject her whole life.
---
---


Because the father of the still-unnamed female calf was an Atlantic bottlenose dolphin, she is actually three-quarters dolphin and one-quarter false killer whale. But that still qualifies her for a unique status among marine mammals.
The father of the new wholphin could be either of two males that had been in the same pool as Kekaimalu last year: Mikioi or Kaleo, both Sea Life Park residents in their 20s. Odds are that Mikioi is the father, since he is the known sire of other baby dolphins born at the park, but a blood test will ultimately determine the paternity, Lenzi said.
Kekaimalu was quietly put on "maternity leave" from performing in Sea Life Park shows last fall, said trainer Bonnie Call, and will continue "being a full-time mom" for the foreseeable future.
But down the road, Kekaimalu could return to performing, and her daughter could join her. Already the calf shows an independent, inquisitive nature with trainers, Call said.
Both wholphins' color is midway between the black of a false killer whale and the light gray of a bottlenose dolphin.
Sea Life Park allowed media cameras a sneak peak at mother and child yesterday. Lenzi said he hopes to allow public viewing of the animals before summer.
Mother and daughter swam laps together in their pool. The young wholphin shadowed her mother, keeping pace with her parent's seemingly effortless glides around the 45-by-90-foot main portion of the pool and even surfacing to breathe in synchronized time.
When Kekaimalu wolfed down a bucket of capelin fish, fed one by one by trainer Call, the 4-month-old sampled a few pieces. But until she reaches 1 or 2 years old, the youngster's main sustenance will be her mother's milk.
Meanwhile, Kekaimalu eats 80 pounds a day of capelin, herring and squid -- up from 35 pounds per day pre-pregnancy and 50 pounds a day while pregnant.
Kekaimalu is about 700 pounds and 11 feet long. Though less than half her mother's size, the calf already is the size of a yearling dolphin calf.
As for the calf having no name yet, "there's no rush," Lenzi said. "We're asking for staff ideas and may ask the local community what she should be called."