[UH FOOTBALL]
---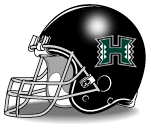 UH's Purcell
released from hospital
The Warriors defensive end,
who collapsed during practice
yesterday, has a concussion
Mel Purcell was diagnosed with a concussion yesterday, after a bizarre morning that included collapsing during spring football practice and a brief stay at The Queen's Medical Center.
Hawaii's most experienced defensive end gave his teammates and coaches a scare when he fell to the ground after contact in a pass-rushing drill near the end of yesterday's 2-hour session. He seemed to be dazed, and remained prone while UH trainers tended to him. After about 15 minutes, emergency personnel took over and eventually took Purcell to Queen's.
Once at the hospital, Purcell underwent a CAT scan (an imaging test used to detect damage to the brain) and other tests. He was determined to be in stable condition and released around 1:30 p.m.
Purcell was scheduled to be examined by team physician Andy Nichols today, and will be monitored daily before he returns to practice.
Coach June Jones said he will err on the side of caution when deciding how quickly to allow Purcell back to drills.
"That's a positive, that the CAT scan was negative. But we'll hold him out for a while," Jones said. "We already know what he can do, so there's no rush."
Jones and defensive line coach Vantz Singletary said younger players will be able to get more experience with Purcell out for a time.
"With Mel not available, we'll probably push up Karl Noa (to No. 1 at left end)," Singletary said. "Of course you want Mel out there, but (right end) Ikaika Alama-Francis has had a really nice camp. He's done extremely well, gotten better at defending the run.
"He's a pass rusher, built like a greyhound, not like a pit bull like some of the wide bodies. He's developing the strength to take on linemen. Same thing with the kid, Karl Noa. He's learning it."
Singletary said Kila Kamakawiwo'ole, a starting defensive end last season who was recently moved to outside linebacker, could move back to end if needed.
"Kila's a guy who will roll, too. We can still count on him. He's smart enough that he doesn't forget how to do things," Singletary said.
Purcell started 12 games and played in all 13 last year, despite a chest injury. He led UH and was sixth in the WAC in sacks (six) and tackles-for-loss (17) last year. He was in on 74 tackles, third on the team. He also blocked two PATs.
Sophomore Daniel Tautofi and walk-ons Ammon Tong and Jake Ingram will also get more repetitions, Singletary said.
"I think Ammon Tong is doing extremely well. He's playing both roles, end and tackle, and he's done well at both," the assistant coach said. "He's working hard. He was kind of a scout team guy last year. But he's gotten stronger and developed in many areas, including concentration and technique."
At tackle, converted offensive lineman Michael Lafaele has emerged, Singletary said.
"He's outstanding, the most consistent at the nose guard position. He came in second and third on the depth chart, but now he's the sole No. 1 at nose guard," he said.
Kahai LaCount, Larry Sauafea and Tong are the others on the two-deep chart at tackle.
Another potential tackle, Lawrence Wilson, a 2004 recruit, is working on getting eligible at a community college. Arizona State transfer Ali Likio also continues to work on eligibility issues.
Freshman tackles Fale Laeli (shoulder), Clarence Tuioti-Mariner (shoulder) and Keala Watson (wrist) are recovering from surgery this spring.