Carlyle needs
time to review
Verizon restrictions
The state has put conditions
on the sale of Hawaii's
dominant phone company
The Carlyle Group and Verizon Hawaii have received another extension from the state Public Utilities Commission to decide whether to ask for reconsideration of conditions placed on the investment group's $1.65 billion acquisition of Hawaii's dominant local phone company.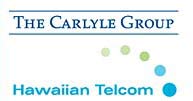 Conditions the commission placed on the sale last month have put the acquisition in limbo while the two sides review the order. Carlyle and Verizon have asked the commission to allow them until Friday to file a motion. The previous deadline expired yesterday.
In a joint statement yesterday, Carlyle and Verizon said they need additional time "to review certain provisions of the PUC's order to assess their impact on the transaction."
"Verizon and Carlyle continue to seek a timely and mutually satisfactory transfer of control of Verizon Hawaii to Carlyle," the statement said.
Among the commission's conditions are the requirement that Carlyle increase its cash investment by about $100 million, to 23.7 percent of the purchase price from the proposed 17.5 percent. Also, Hawaiian Telcom, which would be the name of the new company, would not be able to pay a dividend to investors until it lowers its debt to 65 percent of the purchase price from 76.3 percent.
Carlyle, a Washington, D.C.-based firm that manages $25 billion on behalf of its investors, is seeking to buy the local telephone business, long-distance and Internet services, as well as Verizon's print directory business. Verizon Wireless operations and assets are not included in the sale but Carlyle is planning to launch a new wireless division to compete against Verizon.
Among Carlyle's options are abiding by the PUC order, restructuring its deal with Verizon Hawaii's parent company, Verizon Communications Inc., or walking away from the deal. The two sides also could request an additional extension.