LEGISLATOR DIRECTORY
Searchable database


ELECTION 2004



CALENDARS
Happening around town



MOVIES
First-run film listings




PAST WEEK:





GENERAL
Phones, email, advertising



WHERE TO BUY IT
Stores and newsstands



SUBSCRIBE
Have the paper delivered



SUBSCRIBER FEEDBACK
Circulation contacts



HEADLINES BY EMAIL
Let Starbulletin.com come to you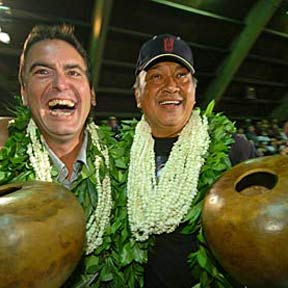 Manu Boyd, left, and Robert Cazimero celebrate after Cazimero won the overall title at the 42nd Annual Merrie Monarch Festival. Cazimero and the men of Halau Na Kamalei took top honors after a decade absent from the festival. See inside for more photos plus a list of all winners.
[ MORE INSIDE ]
---
| | |
| --- | --- |
| Partner site: | Featured on: |
Starbulletin.com publishes online editions Monday through Sunday. New editions normally posted online between 2:00 and 5:00 a.m. Starbulletin.com publishes articles written by our staff and selected articles of particular interest to our readers. Entire contents of this Web site © copyright 2005 Honolulu Star-Bulletin. All rights reserved.
— ADVERTISEMENT —

Robert Cazimero returns to Merrie Monarch glory
»Oahu faithful offer prayers for pope
»Kalaupapa has special sadness
»Beatification of isle nun on schedule
»Lingle radio ads challenged
»Maui gets largest wind farm in state
»Hometown heroes back on Big Isle
»Survey: Salary key to retaining teachers
»Battalion's work in Iraq honored
»Isle doctors offer rare ear implants for kids
»East-West concert crafts drama of diversity
»Alert issued over gas cylinders at Keehi

Three artists share triumphs, travails of art-making
»'Fashion is the key to joy'
»HIFF: Korean film is brisk but bittersweet
»HIFF: Trip to the past enlightens a daughter
»HIFF: Uncertain fate enhances mood of 'Gloomy Sunday'
»Isle Pages: New releases

3 Days In... Beautiful Cote d'Azur
»X Marks... The Pacific's 'Roaring Lion'
»The Search for Hawaiian Life

Road doesn't slow Gauchos
»Split with SJSU stops UH's losing streak
»Fresno State stops Hawaii
»Stretching, warming up are invaluable
»All-State Soccer: The defense rests
»Buffanblu bail out Pate
»Aquino beats wind and Kapolei
»Hughes comes through for big Kahuku victory
»Maryknoll pulls away to defeat Kamehameha
»Marlins release Wayne, Victorino lifts Phillies

Ewa-lution in real estate
»Inside Hawaii Inc.
»Lahainaluna leads stock sim

State must seize rail opportunity
»Natural resources too important to be neglected
»Letters to the Editor



— ADVERTISEMENTS —

— ADVERTISEMENTS —