LEGISLATOR DIRECTORY
Searchable database


ELECTION 2004



CALENDARS
Happening around town



MOVIES
First-run film listings




PAST WEEK:





GENERAL
Phones, email, advertising



WHERE TO BUY IT
Stores and newsstands



SUBSCRIBE
Have the paper delivered



SUBSCRIBER FEEDBACK
Circulation contacts



HEADLINES BY EMAIL
Let Starbulletin.com come to you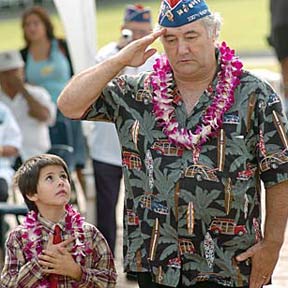 A memorial service was held yesterday at the National Memorial Cemetery of the Pacific at Punchbowl as part of the 62nd anniversary reunion of the 442nd Regimental Combat Team. Pierre Moulin and his 6-year-old son, Martin, paid their respects after laying a wreath during the ceremony. Moulin is from Bruyeres, France, a town that was liberated by the 442nd during World War II.
[ MORE INSIDE ]
---
| | |
| --- | --- |
| Partner site: | Featured on: |
Starbulletin.com publishes online editions Monday through Sunday. New editions normally posted online between 2:00 and 5:00 a.m. Starbulletin.com publishes articles written by our staff and selected articles of particular interest to our readers. Entire contents of this Web site © copyright 2005 Honolulu Star-Bulletin. All rights reserved.
— ADVERTISEMENT —

UH team locates huge Japanese sub
»Kaneohe school under test pressure
»Senate tackles funeral plans
»Cleared soldier still set on task
»300 marchers protest U.S. invasion
»Officials call Hawaii flu rate 'moderate'
»Hearings discuss recycling law
»Readjusting to life at home
»Sub team set to explore S.Pacific
»Big Isle officer and firefighter honored
»Rev. Dan Hen Chong Kong dies
»Emergency contraception talk set

Style File: Bold & new spring
»Gallery: Celebrating creativity
»D&Q: Here be dragons -- and a winged tiger, too
»Bookshelf: A dark thriller of twisted history

Pattaya, Thailand offers many sights for tourists
»X Marks... The Pacific War Memorial
»The Search for Hawaiian Life

Meyer shuts down Rainbows
»Stations lining up for UH's TV rights
»Tantalus not so tantalizing
»Lee wins second NCAA title
»Pate no-hits Warriors
»Miyashiro helps Roosevelt recover
»Wie falls to tie for 14th

Feng Shui - Art of Profit
»Family Tree: McCully Bike
»Inside Hawaii Inc.
»Kaimuki stock pickers lead division

Labor needs innovators to survive
»Parents and schools should combat obesity
»Letters to the Editor



— ADVERTISEMENTS —

— ADVERTISEMENTS —