[UH FOOTBALL]
---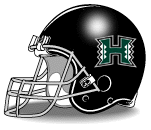 UH's Cav ponders
Beavers offer
Hawaii offensive line coach Mike Cavanaugh said last night he has been offered a job on the Oregon State staff after he interviewed with Beavers head coach Mike Riley in Corvallis yesterday.
He said he was undecided about joining the Beavers.
"I want to get home and talk to my family about it," Cavanaugh said in a brief phone interview from Oregon. "That's all I want to say about it for now."
Riley is the former head coach of the San Diego Chargers. He replaced interim head coach June Jones in 1999 when Jones left the Chargers to become the UH head coach. One of Jones' first hires was Cavanaugh, who was an assistant under him at San Diego.
Meanwhile, the NFL jobs Cavanaugh and UH defensive line coach Vantz Singletary interviewed for within the past week are no longer open.
The Cleveland Browns yesterday named Jeff Uhlenhake assistant offensive line coach, which was the position Cavanaugh interviewed for last weekend.
Singletary was interviewed for a job as assistant defensive line coach with the 49ers, but San Francisco head coach Mike Nolan and assistant head coach Mike Singletary (Vantz Singletary's uncle) told him yesterday the team decided it will hire an offensive assistant instead.
"I'm happy where I'm at," said Vantz Singletary, but he admits his ultimate goal is to coach in the NFL, and Mike Singletary encouraged him yesterday.
"I've got a horse in the race who might be a head coach someday," Vantz Singletary said. "He told me to enjoy every day in Honolulu because you won't be there long."
Cavanaugh also said he is happy with the Warriors and has not been actively seeking other positions. In January, he turned down an offer to be assistant head coach at San Jose State. UH athletic director Herman Frazier has recommended to the UH Board of Regents that Cavanaugh be given a pay raise above the top scale for assistant football coaches, which is $110,000 per year.
In another matter, the athletic department hopes to disburse 2004 bowl game bonus checks to the football assistants with their March 20 paychecks, a UH spokeswoman said.
The coaches had not received bonuses for the 2003 or 2004 Hawaii Bowl (equivalent to one month's pay) until last month, when they got them for the first game.
"Our goal is to have it done March 20," Lois Manin of UH said. "It's been prioritized."