---
[ FAST FACTS HAWAII ]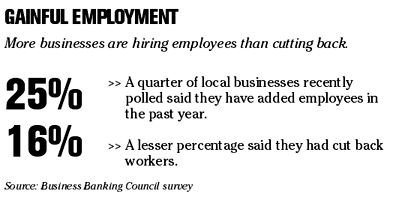 ---
BACK TO TOP


|


Discount airline starts Oakland-Hawaii routes
North American Airlines
will begin flights from Oakland, Calif., to Kona and Kauai starting in April, the airline said yesterday.
The airline will fly to Lihue on Fridays and to Kona each Sunday, bringing to nine the airline's total weekly flights between Oakland and Hawaii. North American already flies Boeing 757-200 aircraft from Oakland to Maui and Honolulu.
North American, a discount carrier, is promoting the flights as a cheaper way to travel to Hawaii while maintaining amenities including meal service and leather seats.
Mechanics ratify Hawaiian Air pact
Hawaiian Airlines
, dealt a setback earlier this week when its flight attendants rejected a tentative contract, received better results yesterday when its mechanics labor unit ratified a new three-year agreement.
The International Association of Machinists District Lodge 142 represents 376 employees who work as aircraft inspectors, mechanics, line servicemen and cleaners at Hawaiian.
The airline said the mechanics unit, which last month rejected a tentative agreement, ratified the contract by "a comfortable margin."
Union groups that also have ratified contracts are the clerical workers, dispatchers and computer network engineers. The Association of Flight Attendants' Hawaiian Airlines unit on Monday rejected its contract by 20 votes and have resumed discussions with the airline.
Hawaiian also has been holding last-minute negotiations with its pilots union ahead of a hearing Tuesday where the company would seek to impose a contract on the pilots.
Beer has $723.8 million impact
The beer industry had a $723.8 million impact on the $50.6 billion Hawaii economy last year, according to the a study released yesterday by the National Beer Wholesalers Association and the Beer Institute.
The figure includes 9,804 jobs paying $258.2 million in total wages as well as $141.8 million in tax revenue.
Last year's impact increased by $56.8 million from about $667 million in 2003.
Kona charter serves new airport
A Japanese charter flight from a new airport in Nagoya, Japan, arrived for the first time yesterday on the Big Island in Kona.
The new JalPak charter serves the Chubu International Airport.
Wal-Mart profit tops $10 billion
NEW YORK »
Wal-Mart Stores Inc.
, the world's largest retailer, and discount rival
Target Corp.
posted fourth-quarter earnings yesterday that beat Wall Street expectations, suggesting the profit-sapping impact of holiday discounting was less than some analysts feared.
Wal-Mart said its profits rose 16.2 percent for the November-January period, beating Wall Street forecasts by a penny a share. Its earnings for the full year topped $10 billion for the first time.
Meanwhile, though Target's quarterly profits inched up only 0.1 percent, they still beat analyst expectations by a penny a share and capped a year when earning soared almost 77 percent. Target, which has sharpened its merchandise offerings with designer names such as Isaac Mizrahi and hot gadgets such as iPod music players, also continues to outpace Wal-Mart in sales growth at stores open at least a year.
---
BACK TO TOP
|
[HAWAII INC.]
PROMOTIONS
»
Outrigger Hotels & Resorts
' Beachfront Division has appointed two key managers to its two beachfront hotels in Waikiki.
Elliot Mills
has been promoted to Outrigger Reef general manager. He has over 15 years of industry leadership experience in full-service hotel operations.
Jim Heather
has been appointed Outrigger Waikiki general manager. He previously served as the Outrigger Kanaloa at Kona general manger. He began his career with the company in 1998 as rooms director for the company's Guam resort.
» ChaneyBrooks has promoted Alette Kanaka'ole to commercial property management vice president. She joined the company in August and previously worked for Coldwell Banker Commercial.
» Hawaiian Host Inc. has promoted three employees. Sara Muraoka has been promoted to marketing director. Jeanne Hiroshige has been promoted to human resources director. Joel Corpuz has been promoted to logistics manager.
» AIG Hawaii has promoted Doris Ohara to human resources and administration vice president. She will be responsible for overseeing workplace policy development, employee benefit programs and staff development. She has more than 20 years of human resources and administration management experience.
» Macy's has promoted Lavina Wong to Los Angeles/Hawaii special events director. She will be responsible for public relations and in-store events. She is a 29-year Macy's/Liberty House retail veteran.