LEGISLATOR DIRECTORY
Searchable database


ELECTION 2004



CALENDARS
Happening around town



MOVIES
First-run film listings




PAST WEEK:





GENERAL
Phones, email, advertising



WHERE TO BUY IT
Stores and newsstands



SUBSCRIBE
Have the paper delivered



SUBSCRIBER FEEDBACK
Circulation contacts



HEADLINES BY EMAIL
Let Starbulletin.com come to you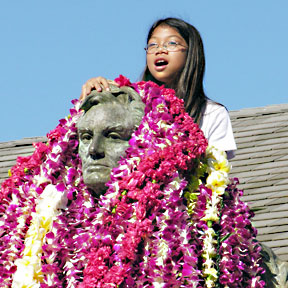 Tiana-Salinas Galeon draped leis yesterday onto the Abraham Lincoln statue fronting Ewa Elementary School. The school's annual ritual celebrates "Lincoln Day," the Feb. 12 birthday of the 16th president of the United States. The statue, dedicated in 1944, was funded by Katherine McIntosh Burke, a former school principal who admired Lincoln. The nationwide Presidents Day holiday will be observed on Feb. 21.
[ MORE INSIDE ]
Starbulletin.com publishes online editions Monday through Sunday. New editions normally posted online between 2:00 and 5:00 a.m. Starbulletin.com publishes articles written by our staff and selected articles of particular interest to our readers. Entire contents of this Web site © copyright 2005 Honolulu Star-Bulletin. All rights reserved.
| | |
| --- | --- |
| Featured on: | Partner site: |
— ADERTISEMENT —

Winds wreak havoc
»Water official quits in protest
»State aids in job hunt for welfare recipients
»Officials will fight Pro Bowl forgeries
»UH proposal raises prices for 'preferred' sports seats
»Workers' comp reforms deferred
»7 private firms vie to build UH site
»Pill bill exempts religious hospitals
»Deal for Marcos victims doubted
»Bissen OK'd for judgeship
»Suspect allegedly confesses
»OCCC to hold makahiki
»2 men rob Kapiolani KFC
»S-B job started wide-ranging career
»Owner of Pee Wee Drive Inn loved work
»Cargo ship freed from reef
»Suit's dismissal shuts church zoning case

Getting in the Grammy awards was no easy task
»Barometer of Cool
»Isle pro gridders featured
»Weekly Top 10 Hit List
»Talks explore parish attitudes toward gays

Pro Bowl: Flying under the radar
»'Bows looking for a little luck
»Rain forces Hawaii-Alabama twinbill today
»Wahine send message with win over LaTech
»ILH rivals Kamehameha, Iolani meet in final
»Kaimuki holds off Kapolei 52-47
»Kalaheo leaps into OIA semis
»Damien beats Maryknoll
»Noga does enough to keep Waipahu alive
»Crowell takes over as head coach of his alma mater

Aloha seeks quick OK on labor pacts
»Central Pacific to issue $74.8M in new stock

An auspicious beginning for Hawaiian music
»Medicare drug plan deserves overhaul
»Letters to the Editor



— ADVERTISEMENTS —

— ADVERTISEMENTS —