LEGISLATOR DIRECTORY
Searchable database


ELECTION 2004



CALENDARS
Happening around town



MOVIES
First-run film listings




PAST WEEK:





GENERAL
Phones, email, advertising



WHERE TO BUY IT
Stores and newsstands



SUBSCRIBE
Have the paper delivered



SUBSCRIBER FEEDBACK
Circulation contacts



HEADLINES BY EMAIL
Let Starbulletin.com come to you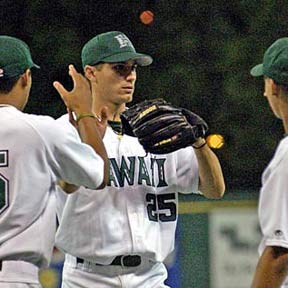 Hawaii's Ricky Bauer, center, gets congratulations from teammates after the top of the sixth inning. The Rainbows opened the 2005 season by defeating Alabama 4-1 last night at Les Murakami Stadium.
[ MORE INSIDE ]
Starbulletin.com publishes online editions Monday through Sunday. New editions normally posted online between 2:00 and 5:00 a.m. Starbulletin.com publishes articles written by our staff and selected articles of particular interest to our readers. Entire contents of this Web site © copyright 2005 Honolulu Star-Bulletin. All rights reserved.
| | |
| --- | --- |
| Featured on: | Partner site: |
— ADVERTISEMENT —

School officials dread budget cuts
»Delayed inmate releases cost state $1.2M
»Bill would ban eating dogs, cats
»Judicial pick gets key support
»Isle reps split on immigrant bill
»Ex-realty agent nabbed in 'ice' case
»Inouye co-sponsors shore cleanup bill
»Surf photogs describe risks
»Trauma doctor shortage called crisis
»Mock trial sharpens students' edge
»Tireless tutor Ed Krentzman dies

Jason Mraz: Riding his 'Rocket'
»Duke goes back to Uke roots
»Prezident Brown in town
»Reichel tries to balance culture, entertainment
»Killing it with My Chemical Romance
»Band blends gypsy, Yiddish music

Pro Bowl: Jumping through hoops
»'Bows beat Tide in opener
»Millsap spells doom for UH
»Hawaii upends Louisiana Tech
»Hawaii extends its contract with KKEA
»Chargers upend Bears
»Kessell outpitches Weisskopf
»Waimea pulls rug out from under Mililani
»Radford knocks out Castle
»Rough Riders storm back to beat Mules
»Raiders fend off Punahou

New homes at half price
»Legislature honors Dods
»Tax revenues jump

Paper trails would ensure vote integrity
»Rail system gains deserved support
»Letters to the Editor



— ADVERTISEMENTS —

— ADVERTISEMENTS —