LEGISLATOR DIRECTORY
Searchable database


ELECTION 2004



CALENDARS
Happening around town



MOVIES
First-run film listings




PAST WEEK:





GENERAL
Phones, email, advertising



WHERE TO BUY IT
Stores and newsstands



SUBSCRIBE
Have the paper delivered



SUBSCRIBER FEEDBACK
Circulation contacts



HEADLINES BY EMAIL
Let Starbulletin.com come to you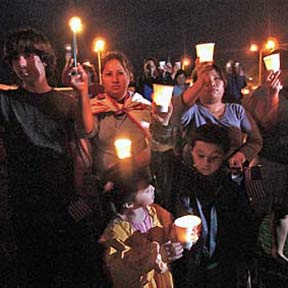 A candlelight vigil was held last night at Hawaii Marine Corps Base-Kaneohe, in memory of the 27 Hawaii troops -- 26 Marines and one sailor -- killed Jan. 26 in Iraq. Among the several hundred participants were military families with loved ones deployed in Iraq and other war zones.
[ MORE INSIDE ]
Starbulletin.com publishes online editions Monday through Sunday. New editions normally posted online between 2:00 and 5:00 a.m. Starbulletin.com publishes articles written by our staff and selected articles of particular interest to our readers. Entire contents of this Web site © copyright 2005 Honolulu Star-Bulletin. All rights reserved.
| | |
| --- | --- |
| Featured on: | Partner site: |
— ADVERTISEMENT —

Daiei faces shutdown or sell-off
»Mayor says he could levy user fees
»Crime numbers fall statewide
»Extended ohana honors sailor
»Doctors urge malpractice reform
»Maui deejay makes 'Idol' cut
»Carlisle aide sanctioned
»Mauna Kea yields Saturn insight
»Charter schools measure rejected
»Breeder, state meet over kids' custody
»Man guilty of gun threat to wife
»Ex-law man's drug death shocks many
»Private work on city tab admitted
»Nominees to judgeships named
»Landmark gardener Eva Texeira dies
»Lack of radio contact cited in crash
»Fuel removal to begin for grounded ship

Weekend: Tall tales
»Pirates of Punahou
»'Bone's back
»Pulling his own strings
»The Tau dance
»UH's 'randai' colorful
»Pet Ohana: Kitty-sized condos are cat's meow
»Jah Children Must Unite

Warriors handle Cardinal in 5
»Reinforcements ready to play
»Jacksonville super enough for Manuwai
»Jones wonders where Kahuku is
»Wahine take another shot at Spartans
»HPU faces diverse schedule
»Warriors bat back Jr. 'Bows

Catching the cruise wave
»Unity House receiver warns of meltdown
»Kapiolani landowner moves to sell

Cellphone bill is good first step
»State is obliged to enforce bottle bill
»Letters to the Editor



— ADVERTISEMENTS —

— ADVERTISEMENTS —