New tent at Arizona
offensive to some
Some say that the for-profit
venture is inappropriate
at the Pearl Harbor site






CORRECTION

Tuesday, February 1, 2005

» The land where a tented retail operation has been erected near the Arizona Memorial Visitors Center is administered by the U.S. Navy. A story on Page A1 Sunday incorrectly said the land was part of a national park.

---




The Honolulu Star-Bulletin strives to make its news report fair and accurate. If you have a question or comment about news coverage, call Editor Frank Bridgewater at 529-4791 or email him at

corrections@starbulletin.com

.



A tented retail operation going up on Navy property next to the Arizona Memorial visitors center is drawing fire from military veterans, Pearl Harbor survivors and others, who say the for-profit venture is too crass to be in a national park honoring the 2,000-plus who died on Dec. 7, 1941.
Even the blind snack vendors at the visitors center and members of Hawaii's congressional delegation are raising questions about the operation.
But supporters say the food concessions and tables under the 5,000-square-foot tent already have become a welcome addition to a hugely popular tourist area long criticized for its meager eating options.
"I think it's a big improvement, and the overall plan is great," said Oahu resident John Peters, a retired Navy submariner.
The white open-air tent, named Pearl Harbor Visitor Center, eventually will house about a dozen vendors selling products ranging from smoothies, hamburgers and pizzas to World War II-themed memorabilia, T-shirts and jewelry, according to Patrick Brent, chairman of Pearl Harbor Visitor's Center Inc., the company overseeing the project.
Only a few vendors were in place last week, but Brent said he expects to have the full roster operating by mid-March.
By then, the tent is supposed to have the feel of Hawaii circa 1942. TV monitors altered to look like 1940s-era models will show newsreels from that period. A nearby bus-stop is being rebuilt to resemble one from 60-plus years ago. A 1941 Chevy bus also is being restored.
And to emphasize the historical significance of the area, a docent will be available to answer questions about Pearl Harbor's past and the importance of its three main attractions: the Arizona Memorial, USS Bowfin and USS Missouri.
---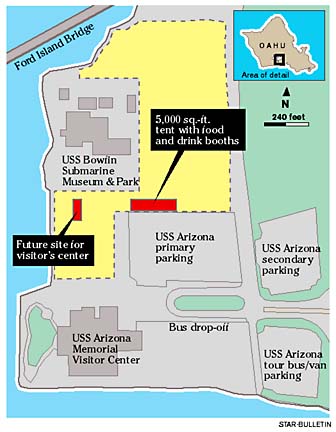 ---
But the purpose of this modern-day commercial venture is to turn a profit.
One planned booth will help visitors purchase tours to areas of Hawaii that have nothing to do with Pearl Harbor.
Another vendor plans to have two WWII-vintage Jeeps on hand so people can sit inside them, don helmets and have their pictures taken -- for a fee.
"As the son of a WWII naval officer, I am simply outraged at the incredibly tacky, for-profit 'tourist trap' that has suddenly sprung up -- in a carnival-style tent, no less!" Glen Winterbottom, a Big Island resident, wrote in a letter to the Star-Bulletin. "Has Oahu's real estate frenzy reached such epic proportions that the U.S. government cannot resist parceling out one of the nation's most sacred shrines to sleazy mainland promoters, so they can milk unsuspecting visitors who have come thousands of miles to honor our fallen heroes?"
Since the tent was erected in mid-December, Ray Emory, historian for the Pearl Harbor Survivors Association, said he has heard from about a dozen survivors who believe the operation is too tacky and denigrating.
"They think it's horrible what's going on," Emory said.
Pearl Harbor Visitor Center representatives say they are mindful of the area's historical significance, won't be doing anything that disrespects that history, and are offering people a comfortable place to rest and eat while waiting to visit the nearby attractions.
At peak times during the year, tourists can wait as long as four hours for their boat ride to the Arizona Memorial, and until the tent operation went up, they had few options for buying refreshments.
Even though 1.5 million people visit the memorial annually, its visitors center has only a tiny snack shop with concrete seating areas nearby, and the Bowfin museum has a hot dog stand with a handful of tables in a shaded courtyard.
Brent, an ex-Marine, said he understands why people are concerned about what his company does at Pearl Harbor, and that's why so much care went into developing the concept, which stresses the historical component.
Brent said all his "crew members" -- he doesn't call them employees -- must pass a history test on Pearl Harbor so they are able to answer questions from visitors.
Signs, displays and photos will reflect that history, and some of the products sold under the tent also will have a historical bent, he said. For instance, some jewelry that Maui Divers plans to sell will have Pearl Harbor insignia, and some T-shirts offered by Hilo Hattie will feature WWII themes, according to Brent.
Even the port-o-potties will be painted Drab Olive, the standard military color.
"I don't want to look like I'm trying to do Disneyland," Brent said. "I want to be respectful. I want to do history."
Brent's company is subleasing the 6.6 acre site known as Halawa Landing from a joint venture between Fluor Hawaii and Hunt Building Co. That joint venture got the lease rights to Halawa Landing in 2003 as part of its $84 million agreement to redevelop Ford Island. The lease runs for 65 years.
The big white tent is supposed to be only "temporary."
Brent said his company hopes to have a permanent visitor center built closer to the shoreline within the next year or two. That plan also includes a pedestrian promenade and a sit-down restaurant.
Once the permanent center is completed, the tent will be taken down and that area converted to parking, Brent said.
The company's plans could undergo considerable change if recent opposition, including complaints reaching the halls of Congress, is any indication.
Even though Brent's company hasn't done anything to suggest the lease terms for the Navy land are being violated, some key politicians are weighing in on the controversy.
U.S. Sen. Daniel Inouye, a decorated WWII veteran, said he is aware of the concerns that have been raised and, like the others, questions the appropriateness of the use of that site.
"Many veterans and survivors of the attack on Pearl Harbor consider that land as part of a larger surrounding area that is 'sacred,' honoring the men and women who served and sacrificed for our nation in the Pacific during World War II," Inouye said in a statement. "I am hopeful that the leased Navy land between two important World War II landmarks will be utilized with appropriate sensitivity."
U.S. Rep. Neil Abercrombie, on the House Armed Services Committee that deals with the military, said he met with Hunt officials last week and gave them this advice: "My suggestion was that everybody ought to step back, take a deep breath and start over."
The Navy in a statement said it was still working with Ford Island Ventures, the entity that has the sublease agreement with Brent's company, on the short- and long-term plans for the site.
The Navy said it was "very sensitive" to the concerns of veterans and strongly committed to "maintaining a suitable mood of dignity and respect for the memorials in the area and the service personnel whom they honor."
Part of the difficulty, Abercrombie and others said, is that a for-profit operation is being placed in a national park with several nonprofit neighbors, and their missions are all different. The money raised by the nonprofits goes exclusively to support the respective programs of their museums or memorials, while net proceeds of a for-profit enterprise go to its owners.
"To place a for-profit entity right in the middle of that is pretty much out of context," said Tom Shaw, president of the Arizona Memorial Museum Association, which raises money to support programs for the memorial. "It's like building a skyscraper in the middle of the Grand Canyon."
About 1.5 million people visit the Arizona Memorial each year.
In one respect, Brent said he is surprised by the opposition his project is generating because the plan basically adopted key elements from what was recommended in a 1999 study commissioned by the Navy. Some of the same groups now criticizing him participated in the study, he said.
"We want to be good neighbors. We don't want to upset people."
That's already too late at the snack shop in the Arizona Memorial visitors center. The blind vendors running the shop are worried the new tent concessions will significantly hurt their sales, according to Stephen Teeter, business manager for the state's blind vendor program.
Teeter also said he believes the new tent operation violates U.S. law that provides blind vendors on federal property certain protections from competition.
The matter is being reviewed by the Attorney General's Office, Teeter said.
If opposition from the blind vendors wasn't disheartening enough for Brent, several tourists randomly questioned by the Star-Bulletin last week gave his operation the thumbs down.
They said they didn't think a for-profit business should be running such a retail operation in the park, noting the potential for it to become overly commercial.
"This could get out of hand very easily," said Kathleen Gallo, 62, of San Jose, Calif.
Swarthmore, Pa., resident Stella Mazur, 72, who has visited the Arizona Memorial almost every year for the past two decades, said a for-profit operation would taint the sanctity of the memorial.
"It's better to keep it the way it is," Mazur said. "This is sort of sacred ground."