LEGISLATOR DIRECTORY
Searchable database


ELECTION 2004



CALENDARS
Happening around town



MOVIES
First-run film listings




PAST WEEK:





GENERAL
Phones, email, advertising



WHERE TO BUY IT
Stores and newsstands



SUBSCRIBE
Have the paper delivered



SUBSCRIBER FEEDBACK
Circulation contacts



HEADLINES BY EMAIL
Let Starbulletin.com come to you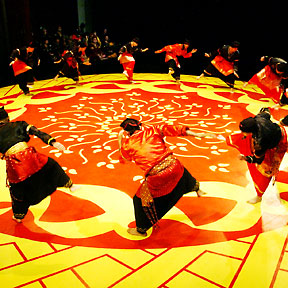 Dress rehearsal for "Luck and Loss: Manandin's Gamble" at the Kennedy Theatre at UH-Manoa. The production of an adapted form of the popular Indonesian folk performance art has inadvertently become an indirect homage to the Southeast Asian area devastated by the December tsunami.
[ MORE INSIDE ]
Starbulletin.com publishes online editions Monday through Sunday. New editions normally posted online between 2:00 and 5:00 a.m. Starbulletin.com publishes articles written by our staff and selected articles of particular interest to our readers. Entire contents of this Web site © copyright 2005 Honolulu Star-Bulletin. All rights reserved.
| | |
| --- | --- |
| Featured on: | Partner site: |
— ADVERTISEMENT —

'The impact is huge'
»Crash reverberates in Kaneohe
»Profiles show belief in mission
»Fire destroys 5 apartments
»Ex-senator suspended
»Pacific command change set
»No sailor left behind
»Downtown, Waikiki foot patrols resume
»HPD takes over city probe
»EWC fund drive nets $340K
»Kauai fails to stop tax rollback
»Hilo colleges seek repair funds
»Group protests sewage from boats
»Tornado not likely cause of wreckage
»Damaged ship heads here for repairs

Weekend: Colorful Indonesian treat
»WWE lifestyle is gripping
»Hello, Carol!
»Makeover hits
»Caucasian male
»Pioneer DJ Swift speaks with his scratches
»Chinese partying
»Winter theater season launches with 'Dutchman'

UH's prayer answered
»Wahine come up short at Rice
»Govs' Lauvao goes with his heart, and ASU
»Radford thrashes Waialua
»Aiea clinches state berth
»Arnie weds on North Shore

King's Shops sold
»Aloha reaches deal with union
»Firm settles isle drug lawsuit
»City seeks $57M for Pearl City land
»Cyanotech Corp. triples profit
»A&B's earnings slip

Crash fatalities should not deter Iraq effort
»Letters to the Editor



— ADVERTISEMENTS —

— ADVERTISEMENTS —