LEGISLATOR DIRECTORY
Searchable database


ELECTION 2004



CALENDARS
Happening around town



MOVIES
First-run film listings




PAST WEEK:





GENERAL
Phones, email, advertising



WHERE TO BUY IT
Stores and newsstands



SUBSCRIBE
Have the paper delivered



SUBSCRIBER FEEDBACK
Circulation contacts



HEADLINES BY EMAIL
Let Starbulletin.com come to you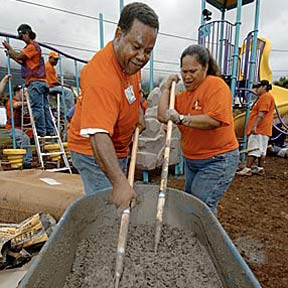 Henry Sealy and Ella Stevens mixed cement yesterday. About 80 volunteers built a state-of-the-art playground in a single day based on local children's drawings at Weinberg Village in Waimanalo.
[ MORE INSIDE ]
Starbulletin.com publishes online editions Monday through Sunday. New editions normally posted online between 2:00 and 5:00 a.m. Starbulletin.com publishes articles written by our staff and selected articles of particular interest to our readers. Entire contents of this Web site © copyright 2005 Honolulu Star-Bulletin. All rights reserved.
| | |
| --- | --- |
| Featured on: | Partner site: |
— ADVERTISEMENT —

Property tax relief put off
»State seeks to ship out more inmates
»Hawaii lawmakers attend inauguration
»Whalers Village retail center sold
»Isle DNA expertise used in stricken areas
»Medical Mission preps for Banda Aceh
»Chaplains comfort aid workers
»Isle official to help with tsunami plans
»Anti-crime package is proposed
»Civil Defense wants $4M for shelters
»Groups overhaul Waimanalo playground
»1860s photo of Kilauea found
»Accrediting team: UH better after Dobelle
»School burglary has happy ending
»Ex-teller admits stealing from customers
»Food broker Lester Gamble dies
»Help needed for fishpond cleanup
»Marine sanctuary hearings set
» Grounded sub's commander reassigned

Magical moves
»It's time for cherry blossoms
»Lisa digs isles
»Mirah's World
»Grand sounds
»Birds, turtles, fish need adoptive homes too

'Bows come close again
»Fuga, Moenoa mix it up
»LaCount, Strickland commit
»Wahine win over UTEP
»Warriors expect to see Northridge's real deal
»Hawaii loses 2 Staceys
»Kalaheo wins over Kaimuki

Hawaiian acts to force labor deal
»Petition seeks to end Turtle Bay boycott
»BancWest earnings rise 12%
»Hawaii to help effort to track cows

Spreading liberty is noble policy
»Navy lab is no threat to UH
»Letters to the Editor



— ADVERTISEMENTS —

— ADVERTISEMENTS —