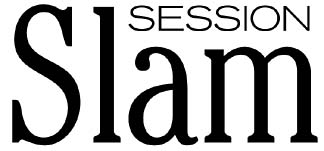 A new documentary chronicles
the success of four Hawaii
poets at a national competition



CORRECTION

Friday, January 21, 2005

» In assessing L.A.'s poetry slam scene, poet Bridget Gray said by e-mail that there "are many beautiful, sensitive, talented and supportive poets in my Los Angeles poetry family, that I am grateful and humbled to be a part of." She said her comments from a private conversation with a local poet were taken out of context in a Tuesday story on Page D1.

---




The Honolulu Star-Bulletin strives to make its news report fair and accurate. If you have a question or comment about news coverage, call Editor Frank Bridgewater at 529-4791 or email him at

corrections@starbulletin.com

.
Last year, four poets from Hawaii brought a fresh breeze of creative vitality to a competitive art form starting to breed more careerists than artists.
The HawaiiSlam Team -- comprising Melvin Borja, Travis "TravisT" Thompson, Selah Geissler and coach/grand instigator Steve Wong (better known as Kealoha) -- took a big step in putting local talent in the spotlight during its Slam Nationals debut in St. Louis last August.






"Hawaii Slam: Poetry in Paradise"

Where: The ARTS at Marks Garage, 1159 Nuuanu Ave.

When: 8 p.m. Friday and Saturday

Admission: $7 general and $5 students with valid ID (all ages welcome but documentary does contain adult language)

Call: 599-3931

Note: "Hawaii Slam: Poetry in Paradise" can be viewed online at cinequestonline.org beginning Feb. 1, and needs voter support in the Viewers Voice competition to gain entry into the Cinequest Film Festival taking place March 2-13 in San Jose, Calif. The Web site offers details.



The competition was an opportunity too good to pass up for video documentarian Kathryn Xian, who faithfully taped the local competition, continuing to follow the team to its warm reception at the national finals.
The resulting documentary, "Hawaii Slam: Poetry in Paradise," gets its first screenings this weekend at the ARTS at Marks Garage. Made under the aegis of the nonprofit Safe Zone Foundation, of which Xian is a member, the screenings will help raise funds for the poets to tour with the film on the mainland.
HANGING OUT last Friday afternoon in the parking lot of Kakaako Waterfront Park, Borja was entertaining the group with stories about his recent adventures in Palau with girlfriend Genevieve Honda. He had the same natural ease and enthusiasm he brought to his winning performance about the Special Olympics last May, during the poets' monthly First Thursday event. That's captured on Xian's documentary.
"I started taping the First Thursdays last year," Xian said. "There was no firm plan to follow the team to the national finals, but while I was taping their rehearsals, I knew I had to make good by shooting their entire journey."
It's easy to see how Borja and his mates distinguished themselves as the best of the local crop. Thompson, a volunteer at Revolution Books, speaks with force and confidence about Hawaii's dilemmas surrounding cultural identity and ethnic mixing. Just as strong is Geissler, who mixes her personal experiences with a sharp-tongued, post-feminist ethos.
And the man who mixes the drink, so to speak, is Kealoha, who has seen a natural growth in the local scene.
"At the Hawaiian Hut, we had 600 people show up last month," he said. "Thirty signed up to do the slam -- it feels like more of a show now. But even though we're still babies compared to what's happening on the mainland, our scene is straight-up love.
"Bridget Gray, who's from Los Angeles and was the special featured guest at last month's slam, said that while L.A. is super-cutthroat, here it's a community, with the vibe and nature of Hawaii."
It was that vibe that won over the mainland poets. Even though the Hawaii team did not reach the finals, its members were showcased during the semifinals and finals, lauded with enthusiastic cries of "hana hou" from an audience that had just learned the phrase.
"Doing the poetry slam in St. Louis was like going to boot camp," said Thompson, "as we were piecing together how we were going to show ourselves."
"The industry is, right now, in a weird defensive stage," added Kealoha, "because while it's blowing up in terms of mainstream commercial success (i.e., "Russell Simmons' Def Poetry Slam" on HBO and the current McDonald's TV ad campaign), it's still poetry ... and it's meant to be poetry, while slams have mostly become about winning and losing."
"It's the competition that changes most poets," said Xian. "When it becomes not about the words, but about winning, the two are diametrically opposed. But the team from Hawaii came over to the national finals at the right time, because they showed the rest of the poets what converted them into performing and why there were there in the first place."
KEALOHA THOUGHT HE had a near-foolproof plan when going into the Slam Nationals. Using his background in nuclear engineering when he attended the Massachusetts Institute of Technology, he put together a meticulous, mathematically calculated strategy that Thompson jokingly called "the ninja assault."
But the good news is that even though Kealoha was chagrined when he thought he let the group down, the experience still turned out well.
"Working in poetry slams, we're a community exchanging ideas," Kealoha said, "and as island performers we're reclaiming that mentality."
"In fact," added Geissler, "we didn't even know we had the chemistry and camaraderie as a team until we went and saw how other teams operated."
"Everyone on the team is really close," said Honda, who accompanied her boyfriend on the St. Louis trip. "They're more like a family, at least for the two years that they've been together. All of them were complimented on their team pieces at the nationals, how together they were and on point."
In the meantime, the team and First Thursday soldiers on. Kealoha said that there's such a wide variety of people coming to and registering for the monthly slam that a 12-year-old placed second in last month's competition.
Interest in the team has reached the point that they've been invited to schools, are participating in Youth at Risk programs and just received funding to produce after-school workshops.
And Borja, Thompson and Geissler get a free pass into the finals when it comes around in May, joining other recent winners such as Brenda Kwon and Omega 6, all vying for the chance to make Team 2005.
Thompson also has a new chapbook out, titled "The Politics of Lips," and will start, with Kwon, his own poetry event at the ARTS at Marks Garage called "Reverses," starting next Tuesday and running every last Tuesday of the month. (See artsatmarks.com for more information.)
"The level is raising big time," said Kealoha. "It's beautiful and it keeps elevating the art."